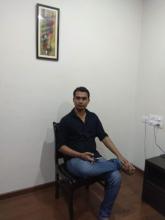 Amit Kumar Ranjan
Tutoring Experience:
5 Years
dedicated elementary teacher with a passion for education and an unwavering commitment to optimizing student success. Offers a proven record of commended performance in full time teaching, crash course and competitive exams preparation.
Profile Description
I am currently working as a private tutor for primary and middle school students. I organize weekly quiz/tests for students which not only focuses on school examination but also helps in preparing for higher goals like Olympiads and general competitions. The course material is diversified in such a way, it can help students with learning challenges and those who want to develop advanced aptitude skills as well. I am a believer in experimental teaching as it helps kids in relating a concept to day to day activities, howsoever abstract the fundamental concept is; a mapping to daily life is always easily recallable. Being a passionate teacher who wants to contribute towards students success I am looking forward to expand my teaching to a larger base and I am ready for new challenges which will only improve my experience.
Qualification:
M.B.A / P G.D.M / PGDBA
Teaching Facilities
Crash Course Available?:
Yes
Study Material Provided?:
Yes
Medium of Instruction:
English
Free Demo Classes Available?:
Yes
Time of Teaching:
As per student's needs
Classes and Subjects
Class 1›Mathematics
Class 2›Mathematics
Class 3›Mathematics
Class 4›Mathematics
Class 5›Mathematics
Class 6›Mathematics
Class 7›Mathematics
Class 7›Science
Class 8›Mathematics
Class 8›Science
Contact Information
Address:
5th Cross Gururaja Layout Doddenakundi marathalli
State & City:
Karnataka›Bengaluru