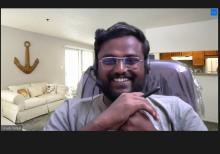 Vivek Rajaram Patkal
Tutoring Experience:
4 Years
Passionate math teacher with 4+ years of experience in high school and middle school environment with designed integrated lesson plans. In my previous role prepared and run after-school tutoring for students with learning difficulties that helped improve their final test results by 30%.
Profile Description
Hi, I am Vivek, I am an aeronautical engineer based in Banglore, India. I am passionate about mathematics and as an engineer have quite expertise also. I have been teaching math to student across US and India since 3 years and their results have improved so much. My tutoring has helped them develop interest in the subject and get good grades in schools and various competitive exams.
Qualification:
B.E / B.Tech
Teaching Facilities
Crash Course Available?:
Yes
Study Material Provided?:
Yes
Medium of Instruction:
English
Free Demo Classes Available?:
Yes
Time of Teaching:
As per student's needs
Classes and Subjects
Class 10›Mathematics
Class 10›Science
Class 6›Mathematics
Class 6›Science
Class 7›Mathematics
Class 7›Science
Class 8›Mathematics
Class 8›Science
Class 9›Mathematics
Class 9›Science
Contact Information
Address:
60, HARIRAM NAGAR, BEHIND NANDINI HOTEL, OPP. SURYA LAWNS, BEED BYPASS ROAD, AURANGABAD
State & City:
Maharashtra›Aurangabad