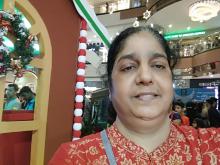 Satej karandikar
Tutoring Experience:
20 Years
Home Tutor for English, maths and Social studies. I love to teach the students as it is my profession. I have been teaching since 20 years.
Profile Description
I have successfully been teaching for 20 yrs to SSC, CBSE and ICSE students. Many whom I have taught have completed their board exams .
Teaching Facilities
Crash Course Available?:
Yes
Study Material Provided?:
Yes
Group Size:
Medium of Instruction:
English
Free Demo Classes Available?:
No
Time of Teaching:
As per student's needs
Classes and Subjects
Class 10›English
Class 2›English
Class 3›Mathematics
Class 4›Mathematics
Class 5›English
Class 6›English
Class 7›Mathematics
Class 8›English
Class 9›English
Contact Information
Address:
Satyam Apt C6/4, 0:4,Sector-5 CBD Navi Mumbai
State & City:
Maharashtra›Mumbai