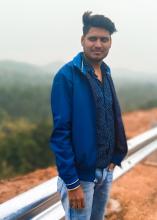 Anand Pandey
Tutoring Experience:
2 Years
Dedicated to helping each and every student reach their full potential. Excited to bring an inspiring and hands-on learning experience to the students.
Profile Description
"Effective learning is based on a set of general principles which constitute a social contract between all participants." Enthusiastic and energetic professional dedicated to providing students with the abilities and potential to master the necessary skills to become responsible, well-educated members of the community. Unwavering commitment to instill confidence and self-esteem by providing open lines of communication and welcoming attitude when approached by students. Sensitive to different perspectives, encouraging student feedback regarding teaching methods and applying it to enhance learning.
Teaching Facilities
Crash Course Available?:
Yes
Study Material Provided?:
Yes
Group Size:
Medium of Instruction:
English
Free Demo Classes Available?:
Yes
Time of Teaching:
Afternoon onwards
Classes and Subjects
Class 10›Mathematics
Class 10›Science
Class 10›Social Science
Class 11›Chemistry
Class 12›Chemistry
Class 8›Science
Class 9›Environmental Studies
Class 9›Mathematics
Class 9›Science
Class 9›Social Science
Contact Information
Area:
KISHORGANJ, HARMU ROAD
Address:
Harmu road, KISHORGANJ, Ranchi
State & City:
Jharkhand›Ranchi