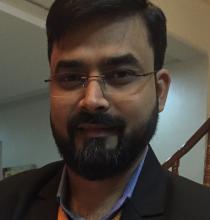 Rakesh Pratyush Gupta
Tutoring Experience:
18 Years
I am a mathematics teacher and educator. I have been teaching for over 16 years now. I primarily teach in south Delhi
Profile Description
R.P. Gupta, M.SC.(Maths), B.Ed. Rakesh Pratyush Gupta is a renowned mathematics teacher and educator. With over 16 years of experience teaching primarily in South Delhi, he has perfected a unique result-oriented approach to the subject. He has an M.Sc in Maths and a M.Ed from Delhi University as well as a one year diploma in education from the International Baccalaureate (IB). Additionally, he is pursuing a PhD in his subject. Mr Gupta's teaching experience is as diverse as it is vast. He has taught at DPS, and has served as HOD, Mathematics at A.I international School Noida and many more. Currently, he takes home and group classes in South Delhi, and has taught a diverse range of students including students from USA, United Kingdom, Canada, Dubai, Bangkok and Korea. His spectrum of clientele includes from the family of ex Vice President of India, to various ministers, members of parliament senior bureaucrats and big Business houses to people living below poverty line. A man of multifaceted talents he is also involved with various NGOs as helping the poor and needy is second nature to him. Above all, his students rate him for his tenacity, hardworking nature and the fact that he is always available, be it 12 at night or 4 in the morning.
Teaching Facilities
Crash Course Available?:
Yes
Study Material Provided?:
Yes
Medium of Instruction:
English
Free Demo Classes Available?:
Yes
Time of Teaching:
As per student's needs
Classes and Subjects
Class 10›Mathematics
Class 11›Mathematics
Class 12›Mathematics
Class 6›Mathematics
Class 7›Mathematics
Class 8›Mathematics
Class 9›Mathematics
Contact Information
State & City:
Delhi›New Delhi