CBSE Class 11 Tamil Syllabus 2019 2020. Download the latest syllabus for 2019 2020 released by CBSE to do your studies as per the latest guidelines issued by CBSE NCERT. The syllabus, weightage of chapters, blue print of question papers and the design of question papers is issued every year for the benefit of students. Access and download syllabus for all subjects here.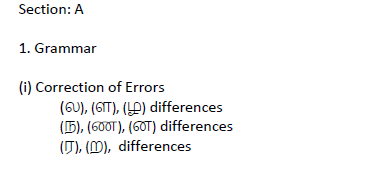 (ii) Vallinam Migum Idangal 
(iii) Do as directed
Tan vinai, Pira vinai, Cey vinai, Ceyappattu vinai, Udanpattu vinai, Edhirmarai vinai, Ner Kootru, Ayar Kootru, Tani Vakkiyam, Todar Vakkiyam and
Kalavai Vakkiyam
2. Comprehension 
(i) Pathi vina vidai 
(ii) Ner Kaanal (Karpanai) (or) Ceyyul Pagudhi koduthu vina kettal
3. Essay Writing 
On Literature, Science, General Knowledge  Paarattu Nigalchikku Alaippu, Vinnappa and  Muraiyeettuk Kadithangal and Uravumurai Kadithangal
Section: B 
Prose from the Prescribed TextBook
1. Answer only for 3 questions ( Not More than 8 lines from the following lesson.) 
Unit (Iyal ) Numbers and Titles
2. Iyarkai Velanmai
3. Malai Itapeyarkal – oor Ayvu
4. Tamilaga kalvi varalaru
6. Kalathai Vendra Kalai
8. Tagorin kadithangal
2. Poetry from the Prescribed Book 
(i) Annotation 
(ii) Questions ( Answer only for 2 question ) 
Unit (Iyal ) Numbers and Titles
2. i) Ethili Kuruvikal
Ii ) Kaaviyam
iii) Thirumalai Murugan Pallu
iv) Ainguru Nooru
3. i) Kavadi Chindu
ii) Kurunthogai
iii) Purananooru
iv) Thirukural
4. i) Pillai Kudam
ii) Nattrinai
iii) Tholkappiyam- cirappu Paayira Urai vilakka Paadal
6. i) Aathmanam Kavithaigal
Ii) KutralaKuravanji
Iii) Thiruchalal
8. i) Ovvaru pullaiyum
Ii) Tholainthu ponavargal
Iii) Manonmaniyam
Please click the link below to download CBSE Class 11 Tamil Syllabus 2019 2020. 
Click for more Languages Study Material
›