CBSE Class 11 Russian Syllabus 2019 2020. Download the latest syllabus for 2019 2020 released by CBSE to do your studies as per the latest guidelines issued by CBSE NCERT. The syllabus, weightage of chapters, blue print of question papers and the design of question papers is issued every year for the benefit of students. Access and download syllabus for all subjects here.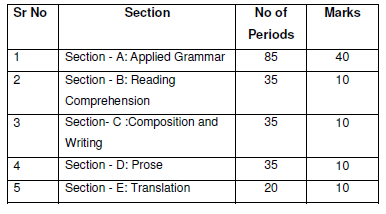 Section - A: Applied Grammar 
(Based on the lessons from the Prescribed text book)
Section - B: Reading Comprehension
An unseen passage of about 150-200 words with 4-5 short answer type questions based on the passages
Section- C :Composition and Writing 
An essay of about 150-200 words in Russian on a topic related to everyday life
Section - D: Prose 
Questions based on the texts from the prescribed text book requiring answers in Russian
Section - E: Translation 
(A) From Russian into English (from unknown text or sentences)
(B) From English into Russian (Unknown text or sentences)
Section – F: Internal Assessment 
(A) Listening and Speaking Skills in Russian - Students should be given practice in interpreting small texts/ sentences from Russian into English and vice versa. At the end of the year they may be evaluated on their speaking and listening skills in Russian.
(B) A small project, which the students will write or do on any one item related to  culture and civilization of Russia. It could be cinema/films, climate, sports, singing Russian popular or folk songs or poetry.
(C) Writing in Russian or English their experiences of learning Russian language in  class XI. They should also write suggestions about some innovations, which they would like to have during class hours in the next year class XII programme
Please click the link below to download CBSE Class 11 Russian Syllabus 2019 2020.
Click for more Languages Study Material
›