NCERT Solutions Class 12 Biology Chapter 11 Biotechnology Principles And Processes with answers available in Pdf for free download. The NCERT Solutions for Class 12 Biology with answers have been prepared as per the latest syllabus, NCERT books and examination pattern suggested in Standard 12 by CBSE, NCERT and KVS. Solutions to questions given in NCERT book for Class 12 Biology are an important part of exams for Grade 12 Biology and if practiced properly can help you to get higher marks. Refer to more Chapter-wise Solutions for NCERT Class 12 Biology and also download more latest study material for all subjects
Chapter 11 Biotechnology Principles And Processes Class 12 NCERT Solutions
Class 12 Biology students should refer to the following NCERT questions with answers for Chapter 11 Biotechnology Principles And Processes in standard 12. These NCERT Solutions with answers for Grade 12 Biology will come in exams and help you to score good marks
Chapter 11 Biotechnology Principles And Processes NCERT Solutions Class 12
Class 12 Biology
NCERT Solutions
Chapter 11 Biotechnology: Principles And Processes
1.Can you list 10 recombinant proteins which are used in medical practice? Find out where they are used as therapeutics (use the internet).
Ans.(i) Human insulin – Diabetes
(ii)Human growth hormone – Dwarfism cure
(iii)Blood clotting factor Y1H/IX-Haemophilia
(iv)TPA (tissue plasminogen activator) – Heart attack/strokes
(v)PDGF (platelet derived growth factor) – Stimulates wound healing.
(vi)Interferon – Treatment of viral infection.
(vii)Interlinking – Enhances immune reaction, (viii) Hepatitis B vaccine – Prevention of infectious disease.
(ix)Herpes Vaccine – Prevention of infectious disease.
(x)DNase I – Treatment of cystic fibrosis.
2.Make a chart (with diagrammatic representation) showing a restriction enzyme, the substrate DNA on which it acts, the site at which it cuts DNA and the product it produces.
Ans. Name of the Restriction enzyme – Bam HI.
The substrate DNA on which it acts –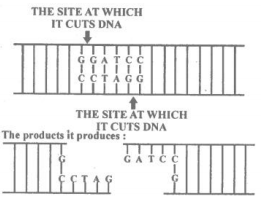 3. From what you have learnt, can you tell whether enzymes are bigger or DNA is bigger in molecular size? How did you know?
Ans. Enzymes are bigger than DNA as they are proteins and proteins are macromolecules made of amino acids which are bigger than nucleotides. This can also be proved by gel electrophoresis, where denatured protein would not move but denatured DNA will move to a distance. Protein synthesis is regulated by small portions of DNA, called genes.
4.What would be the molar concentration of human DNA in a human cell? Consult your teacher.
Ans. The molar concentration of DNA in human cell is 2 mg/ml of cell extract.
5.Do eukaryotic cells have restriction endonucleases? Justify your answer.
Ans. No, eukaryotic cells do not have restriction endonuclease because DNA molecules of eukaryotes are heavily methylated. All the restriction endonucleases have been isolated from various strain of bacteria.
Please click the link below to download NCERT Solutions Class 12 Biology Chapter 11 Biotechnology Principles And Processes.
Click for more Biology Study Material
›