NCERT Solutions Class 11 Biology Chapter 22 Chemical Coordination and Integration. NCERT book for Biology in Class 11 is strongly suggested by teachers and the CBSE and NCERT boards. These books are now mandatory in various schools. The questions in exams will strictly come from the topics given in these books. Please download the NCERT solutions for Class 11 Biology free in PDF made by teachers of the best schools in India. These solutions are carefully compiled to give detailed understanding of the concepts and also steps of solutions. The NCERT solutions are free to download in pdf format. Please refer to the download link below to download the pdf file and also refer to other chapters and subjects to get the solutions to Biology NCERT book questions and exercises.
Exercises 1. Define the following:
(a) Exocrine gland
(b) Endocrine gland
(c) Hormone Answer
(a) Exocrine gland: Glands that discharge their secretions into ducts are known as exocrine glands.
(b) Endocrine gland: Glands that do not discharge their secretions into ducts are known as endocrine glands. These glands discharge their secretions directly into the blood.
(c) Hormone: Hormones are non-nutrient chemicals which act as intercellular messengers and are produced in trace amounts.
2. Diagrammatically indicate the location of the various endocrine glands in our body.
Answer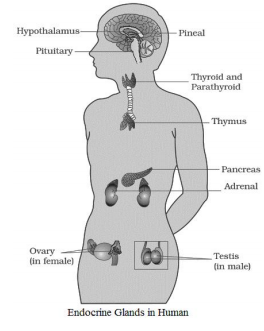 Please click on link below to download NCERT Solutions Class 11 Biology Chapter 22 Chemical Coordination and Integration
Click for more Biology Study Material
›