NCERT Solutions Class 11 Biology Chapter 18 Body Fluids and Circulation. NCERT book for Biology in Class 11 is strongly suggested by teachers and the CBSE and NCERT boards. These books are now mandatory in various schools. The questions in exams will strictly come from the topics given in these books. Please download the NCERT solutions for Class 11 Biology free in PDF made by teachers of the best schools in India. These solutions are carefully compiled to give detailed understanding of the concepts and also steps of solutions. The NCERT solutions are free to download in pdf format. Please refer to the download link below to download the pdf file and also refer to other chapters and subjects to get the solutions to Biology NCERT book questions and exercises.
1. Name the components of the formed elements in the blood and mention one major function of each of them.
Answer The components of the formed elements in the blood with their major function are:
-- Erythrocytes (RBC): The erythrocytes play a significant role in transport of respiratory gases.
-- Leucocytes (WBC): The leucocytes play an important role to fight against infections.
-- Thrombocytes (Platelets): Platelets are involve in the coagulation or clotting of blood.
2. What is the importance of plasma proteins?
Answer The major plasma proteins are fibrinogen, globulins and albumins.
• Fibrinogen play important role in blood coagulation.
• Globulins protects the body against infecting agents
• Albumins helps in maintaining the fluid volume within the vascular space.
3. Match column I with column II: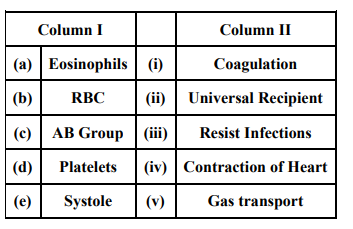 Please click on link below to download NCERT Solutions Class 11 Biology Chapter 18 Body Fluids and Circulation
Click for more Biology Study Material
›