CBSE Class 6 Science Sample Paper SA1 2015 (7)
Its very important for every student to review the question papers of previous years. The last year question papers should be practiced to gain extra marks in examinations. The previous year question papers for both summative assessment1 and summative assessment 2 should be reviewed to understand the examination pattern. Students, teachers and parents can download all CBSE educational material and very well prepared worksheets from this website.  All CBSE educational material is developed by our panel of teachers, have also been submitted by CBSE teachers and students. 
 (c) Water because it is a compound of hydrogen and oxygen
(d) Dissolved air in water
(ii) Which of the following can float on water-
(a) Plastic Block
(b) Iron Block
(c) Silver Coin
(d) Glass Bowl
(iii) A homogeneous solution-
(a) Sand in water
(b) Salt in water
(c) Mustard oil in water
(d) Butter in vinegar
(iv) Device used for ginning of cotton is-
(a) Looms
(b) Combs
(c) Takli
(d) Sewing needle
(v) Process of making a piece of fabric from two sets of yarn is-
(a) Weaving
(b) Knitting
(c) Spinning
(d) Ginning
Q.2 (i)Complete the following flow chart: (½+½= 1)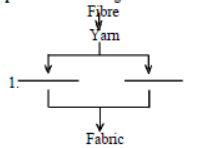 (ii)What type of soil and climate is required for the growth of cotton plant?
Q.3 (i)Identify the odd one out giving a reason: (½+1= 1½)
Coconut oil, Kerosene, Mustard oil, Vinegar.
(ii)Name the hardest substance found in nature. (½)
Q.4 (i) Name and define the process shown in the following picture: (1½)
SECTION- C (BIOLOGY) [27]
Q.1. Which part of pistil changes into fruit? (1)
Q.2. Choose the odd one out and name the eating habit of the odd one: (1)
(a) Deer
(b) Bear
(c) Rabbit
(d) Giraffe
Q.3. Correct the statements: (1)
(a) Proteins are protective foods.
(b) Carrot & Papaya are rich in vitamin- C.
Q.4. The deficiency disease which can be prevented by intake of iodized salt is ______.(1)
Q.5. (i) Name the scientist who discovered the first antibiotic. (1)
(ii)Name the first antibiotic discovered by him. (1)
Q.6. Give two examples each of- (2)
(a) Edible roots
(b) Edible seeds
Q.7. Name the nutrient which should be taken in more amount by construction workers.
Give reason for your answer. Name one food item rich in this nutrient. (2)
Q.8. Give difference between: (2)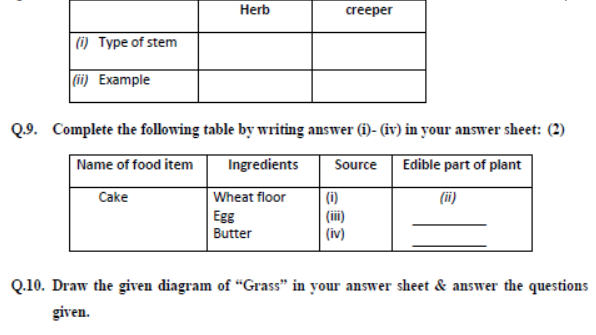 Please click the below link to access CBSE Class 6 Science Sample Paper SA1 2015 (7)
Click for more Science Study Material
›