Read and download PDF of CBSE Class 12 Multimedia and Web Technology Sample Paper Set A designed as per the latest curriculum and examination pattern for Class 12 issued by CBSE, NCERT and KVS. The latest Class 12 Multimedia and Web Technology Sample Papers have been provided with solutions so that the students can solve these practice papers and then compare their answers. This will help them to identify mistakes and improvement areas in Multimedia and Web Technology Standard 12 which they need to study more to get better marks in Grade 12 exams. After solving these guess papers also refer to solved Class 12 Multimedia and Web Technology Question Papers available on our website to build strong understanding of the subject
Multimedia and Web Technology Sample Paper Class 12
Students can refer to the below Class 12 Multimedia and Web Technology Sample Paper designed to help students understand the pattern of questions that will be asked in Grade 12 exams. Please download CBSE Class 12 Multimedia and Web Technology Sample Paper Set A
Multimedia and Web Technology Class 12 Sample Paper
1 (a) Name any two methods that can be used to create a table 
Ans. Methods for creating a table are:
       1. Using the Design view
       2. Using the Datasheet view / By entering data
       3. Using the Wizard
(% mark each for mentioning any two methods correctly)
(b) Explain the term attribute and degree with the help of an example 
Ans Attribute refers to the column of a table. It is the property under which the data is categorized. Degree is the number of attributes in a table.

(1 mark each for the correct definition of each of the two terms)
NOTE: Full marks to be awarded in case both the concepts are explained only with the help of an example.
(c) The relation Products is used to maintain some data related to products sold in a Grocery Store. Study the table and answer the following questions: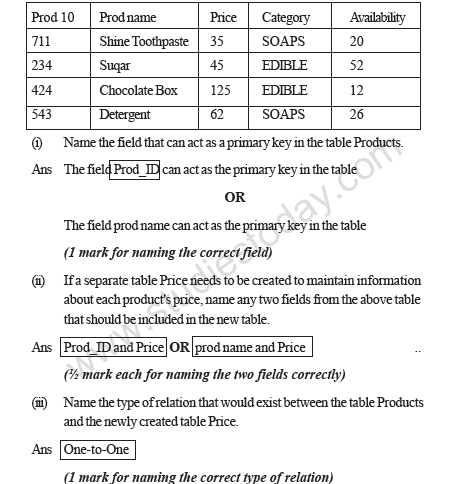 2. Answer the following questions based of HTML:
(a) What is the difference between using the <EMBED> tag and <A> tag for adding music to a web page? 
Ans. The <EMBED> tag places the music within the web page whereas the <A> tag is used to create a hyperlink to a music file that resides on some other web page.
3. Answer the following questions based on ASP.
(a) What is the use of the FileSystemObject?
Ans. The FileSystemObject provides access from an ASP script to the file stored on the hard disk.
(b) Give the full form of ODBC. 
Ans. Open Database Connectivity
Please refer to attached file for CBSE Class 12 Multimedia and Web Technology Sample Paper Set A
Click for more Other Subjects Study Material
›