Download CBSE Class 12 Biology Sexual Reproduction In flowering Plants Notes Set C in PDF format. All Revision notes for Class 12 Biology have been designed as per the latest syllabus and updated chapters given in your textbook for Biology in Standard 12. Our teachers have designed these concept notes for the benefit of Grade 12 students. You should use these chapter wise notes for revision on daily basis. These study notes can also be used for learning each chapter and its important and difficult topics or revision just before your exams to help you get better scores in upcoming examinations, You can also use Printable notes for Class 12 Biology for faster revision of difficult topics and get higher rank. After reading these notes also refer to MCQ questions for Class 12 Biology given our website
Sexual Reproduction In flowering Plants Class 12 Biology Revision Notes
Class 12 Biology students should refer to the following concepts and notes for Sexual Reproduction In flowering Plants in standard 12. These exam notes for Grade 12 Biology will be very useful for upcoming class tests and examinations and help you to score good marks
Sexual Reproduction In flowering Plants Notes Class 12 Biology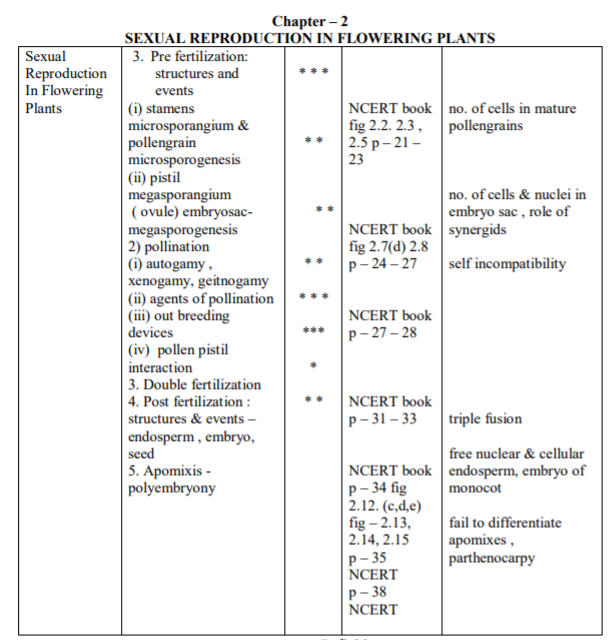 DOUBLE FERTILIZATION :- Fusion of one male gamete with egg and the other gamete with secondary nucleus
(forming 3n endosperm nucleus)
FISSION :- Fraction of nucleus with cytoplasm.
GOOTEE :- bark of healthy and woody branch for grafting.
HELOBIAL :- The mitosis is followed by cytokinesis forming two unequal cells. Subsequent divisions are free nuclear making the endosperm cellular after cytokinesis.
INCOMPATIBILITY :- The inability of certain gametes, even from genetically similar plant species to fuse with each other. This is also called intraspecific incompatibility, self sterality.
NUCELLUS:- The nucleus undergoes repeated divisions & nuclei so produced get arranged in the periphery leaving a large central vacuole-cytokinesis begins from the periphery towards the centre making it cellular at maturity. e.g. maize, wheat, sunflower.
PARTHENOCARPY :- Development of fruit in an unfertilized flower resulting in a seedless fruit. e.g. grapes, banana, tomato.
REPRODUCTION :- The process of producing offsprings and a means of self perpetuation.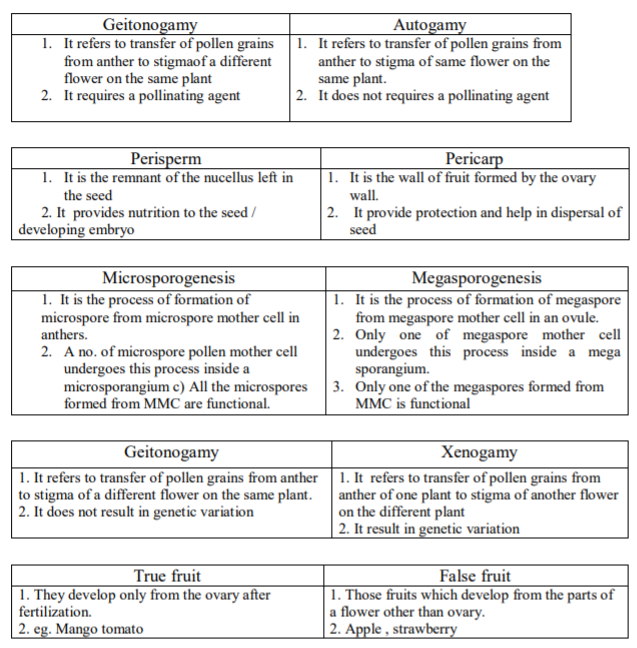 ASSIGNMENTS:
LEVEL I
1. Name the protective substance present on the pollen envelope to tide over adverse conditions.
2. Your friend would like to cross-pollinate the bisexual flower. How can you guide him to be successful in his experiment?
3 What is self–incompatibility? Mention two strategies evolved to prevent self pollination in flowers.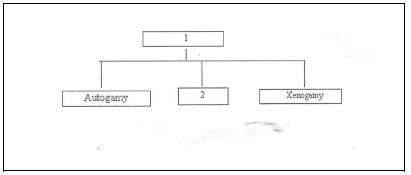 LEVEL 2
1 Why are pollen grains produced in enormous quantities in anemophilous flowers?
2 T.S. of anther shows four layers in the wall-epidermis, endothelium, tapetum and middle layer. Arrange them from outermost to innermost.
3. Complete the flow chart
4(i) What is the process shown in the diagram given below (ii) Name the structure at (a) of the figure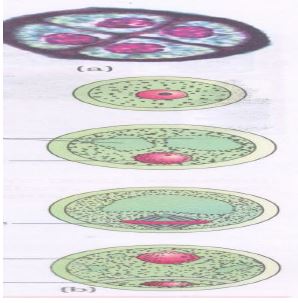 5. Both wind and water pollinated flowers are not very colourful and don't produce nector. What would be the reason for this?
6. (i) What are the pollen/nectar robbers?
(ii) Why do flowers pollinated by flies and beetles secrete foul odor?
7. What is pollen pistil interection? Why is it called a dynamic process?
8. Why do you think that the zygote is dormant for some time in a fertilized ovule?

LEVEL 3
1. Non-albuminous seeds do not have endosperm, then from where do they take the food during germination?
2 State the difference between the endosperm of gymnosperms and angiosperms.
3. If the number of chromosomes in the leaf cell of a flowering plant is 28, what number would you except in the embryo and endosperm of the plant?
4. Mention the scientific term used for modified form of reproduction in which the seeds are formed without fusion of gametes.
5. What will be the fate of ovule if the synergids are absent in the embryo sac?
6. (i)―The microspore is haploid while microspore mother cell is diploid‖ comment?
(ii) How many male gametes and female gametes are produced by –
a) 5 Microspore mother cells
b) 5 megaspore mother cells
7. Cleistogamy inspite of producing assured seed-set even in the absence of pollinators is considered disadvantages to the plant. Why?
8. What is the ploidy of the following?
(i) cells of nucellus, (ii) microspore mother cell, (iii) functional megaspore and (iv) female gametophyte?
9. How do the flowers of maize and cannabis pollinated? What are the features found in these flowers for such type of pollination?
10. How would you justify the absence of sporopollenin in exine of pollen grains at some places?
11.W hy does self pollination not lead to seed formation in self incompatible species?
12.(i) Generally nucellus does not persist in mature seeds. Cite two examples which show persistence of nucellus in the seed

SELF EVALUATION
1. Name the two wall layers of pollen grain and state the chemical nature.
How many germ pores are there in pollengrain of monocots and dicots ? What is the function of germ pore?
2. Name the seed in which endosperm is present? How does the endosperm of gymnosperms differ from that of angiosperms?
3. Give the technical term and one example for each of the following :
a) A plant in which separate male and female flowers are borne on the same individual at different positions
b) A species in which the individual plant is either male or female
4. What are the different devices developed by plants to discourage self-pollination and encourage cross-pollination?
5. Show diagramatically the various events occuring in the development of female gametophyte in angiosperms.
6. Differentiate between geitnogamy and allogamy.
Important Questions for NCERT Class 12 Biology Sexual Reproduction in Flowering Plants
Ques. In a cereal grain the single cotyledon of embryo is represented by
(a) coleoptile (b) coleorhiza
(c) scutellum (d) prophyll.
Answer: C
Ques. The embryo in sunflower has
(a) two cotyledons (b) many cotyledons
(c) no cotyledon (d) one cotyledon. 
Answer: A
Ques. Embryo sac occurs in
(a) embryo (b) axis part of embryo
(c) ovule (d) endosperm. 
Answer: C
Ques. Perisperm is
(a) remnant of endosperm
(b) persistent nucellus
(c) peripheral part of endosperm
(d) disintegrated secondary nucleus. 
Answer: B
Ques. Tegmen develops from
(a) funiculus (b) chalaza
(c) inner integument (d) outer integument.
Answer: C
Ques. Seed formation without fertilisation in flowering plants involves the process of
(a) somatic hybridisation
(b) apomixis
(c) sporulation
(d) budding. 
Answer: B
Ques. Nucellar polyembryony is reported in species of
(a) Citrus (b) Gossypium
(c) Triticum (d) Brassica. 
Answer: A
Ques. What is common between vegetative reproduction and apomixis?
(a) Both are applicable to only dicot plants.
(b) Both bypass the flowering phase.
(c) Both occur round the year.
(d) Both produce progeny identical to the parent.
Answer: D
Ques. Apomictic embryos in Citrus arise from
(a) synergids
(b) maternal sporophytic tissue in ovule
(c) antipodal cells
(d) diploid egg. 
Answer: B
Ques. In a type of apomixis known as adventive embryony, embryos develop directly from the
(a) nucellus or integuments
(b) zygote
(c) synergids or antipodals in an embryo sac
(d) accessory embryo sacs in the ovule. 
Answer: A
Ques. Adventive embryony in Citrus is due to
(a) nucellus (b) integuments
(c) zygotic embryo (d) fertilized egg. 
Answer: A
Ques. The polyembryony commonly occurs in
(a) tomato (b) potato
(c) Citrus (d) turmeric. 
Answer: C
Ques. Study of formation, growth and development of new individual from an egg is
(a) apomixis (b) embryology
(c) embryogeny (d) cytology. 
Answer: B
Ques. Nucellar embryo is
(a) amphimictic haploid (b) amphimictic diploid
(c) apomictic haploid (d) apomictic diploid.
Answer: D
Ques. Development of an organism from female gamete/ egg without involving fertilization is
(a) adventitive embryony
(b) polyembryony
(c) parthenocarpy
(d) parthenogenesis. 
Answer: D
Ques. Formation of gametophyte directly from sporophyte without meiosis is
(a) apospory (b) apogamy
(c) parthenogenesis (d) amphimixis. 
Answer: A
Ques. Prothallus (gametophyte) gives rise to fern plant (sporophyte) without fertilization. It is
(a) apospory (b) apogamy
(c) parthenocarpy (d) parthenogenesis.
Answer: B
Please click the link below to download pdf file for CBSE Class 12 Biology - Sexual Reproduction Inflowering Plants
Click for more Biology Study Material
›