Download CBSE Class 12 Biology Organisms And Populations Minds Map in PDF format. All Revision notes for Class 12 Biology have been designed as per the latest syllabus and updated chapters given in your textbook for Biology in Standard 12. Our teachers have designed these concept notes for the benefit of Grade 12 students. You should use these chapter wise notes for revision on daily basis. These study notes can also be used for learning each chapter and its important and difficult topics or revision just before your exams to help you get better scores in upcoming examinations, You can also use Printable notes for Class 12 Biology for faster revision of difficult topics and get higher rank. After reading these notes also refer to MCQ questions for Class 12 Biology given our website
Organisms And Populations Mind Map Class 12 Biology Revision Notes
Class 12 Biology students should refer to the following concepts and notes for Organisms And Populations Mind Map in standard 12. These exam notes for Grade 12 Biology will be very useful for upcoming class tests and examinations and help you to score good marks
Organisms And Populations Mind Map Notes Class 12 Biology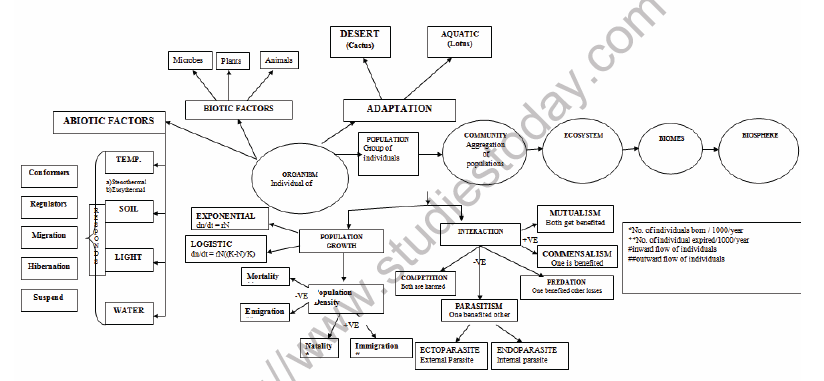 Important Questions for NCERT Class 12 Biology Organisms and Populations
Ques. Gause's principle of competitive exclusion states that
(a) no two species can occupy the same niche indefinitely for the same limiting resources
(b) larger organisms exclude smaller ones through competition
(c) more abundant species will exclude the less abundant species through competition
(d) competition for the same resources exclude species having different food preferences. 
Answer: A
Ques. In which of the following interactions both partners are adversely affected?
(a) Parasitism (b) Mutualism
(c) Competition (d) Predation
Answer: C
Ques. According to Darwin, the organic evolution is due to
(a) competition within closely related species
(b) reduced feeding efficiency in one species due to the presence of interfering species
(c) intraspecific competition
(d) interspecific competition. 
Answer: C
Ques. Besides paddy fields, cyanobacteria are also found inside vegetative part of
(a) Equisetum (b) Psilotum
(c) Pinus (d) Cycas. 
Answer: D
Ques. A sedentary sea anemone gets attached to the shell lining of hermit crab. The association is
(a) commensalism
(b) amensalism
(c) ectoparasitism
(d) symbiosis. 
Answer: A
Ques. A biologist studied the population of rats in a barn. He found that the average natality was 250, average mortality 240, immigration 20 and emigration 30. The net increase in population is
(a) 05 (b) zero
(c) 10 (d) 15. 
Answer: B
Ques. The age pyramid with broad base indicates
(a) high percentage of old individuals
(b) low percentage of young individuals
(c) a stable population
(d) high percentage of young individuals.
Answer: D
Ques. Cuscuta is an example of
(a) ectoparasitism (b) brood parasitism
(c) predation (d) endoparasitism.
Answer: A
Ques. Which one of the following is categorised as a parasite in true sense?
(a) The female Anopheles bites and sucks blood from humans.
(b) Human fetus developing inside the uterus draws nourishment from the mother.
(c) Head louse living on the human scalp as well as laying eggs on human hair.
(d) The cuckoo (koel) lays its eggs in crow's nest.
Answer: C
Ques. Which one of the following is most appropriately defined?
(a) Host is an organism which provides food to another organism.
(b) Amensalism is a relationship in which one species is benefitted whereas the other is unaffected.
(c) Predator is an organism that catches and kills other organism for food.
(d) Parasite is an organism which always lives inside the body of other organism and may kill it.
Answer: C
Ques. Geometric representation of age structure is a characteristic of
(a) population (b) landscape
(c) ecosystem (d) biotic community.
Answer: A
Ques. The population of an insect species shows an explosive increase in numbers during rainy season followed by its disappearance at the end of the season. What does this show?
(a) The food plants mature and die at the end of the rainy season.
(b) Its population growth curve is of J-type.
(c) The population of its predators increases enormously.
(d) S-shaped or sigmoid growth of this insect.
Answer: B
Ques. If the mean and the median pertaining to a certain character of a population are of the same value, the following is most likely to occur
(a) a bi-modal distribution
(b) a T-shaped curve
(c) a skewed curve
(d) a normal distribution. 
Answer: D
Ques. A high density of elephant population in an area can result in
(a) intraspecific competition
(b) interspecific competition
(c) predation on one another
(d) mutualism. 
Answer: A