Download CBSE Class 12 Biology Molecular Basis Of Inheritance Study Guide in PDF format. All Revision notes for Class 12 Biology have been designed as per the latest syllabus and updated chapters given in your textbook for Biology in Standard 12. Our teachers have designed these concept notes for the benefit of Grade 12 students. You should use these chapter wise notes for revision on daily basis. These study notes can also be used for learning each chapter and its important and difficult topics or revision just before your exams to help you get better scores in upcoming examinations, You can also use Printable notes for Class 12 Biology for faster revision of difficult topics and get higher rank. After reading these notes also refer to MCQ questions for Class 12 Biology given our website
Molecular Basis Of Inheritance Study Guide Class 12 Biology Revision Notes
Class 12 Biology students should refer to the following concepts and notes for Molecular Basis Of Inheritance Study Guide in standard 12. These exam notes for Grade 12 Biology will be very useful for upcoming class tests and examinations and help you to score good marks
Molecular Basis Of Inheritance Study Guide Notes Class 12 Biology
Molecular Basic of Inheritance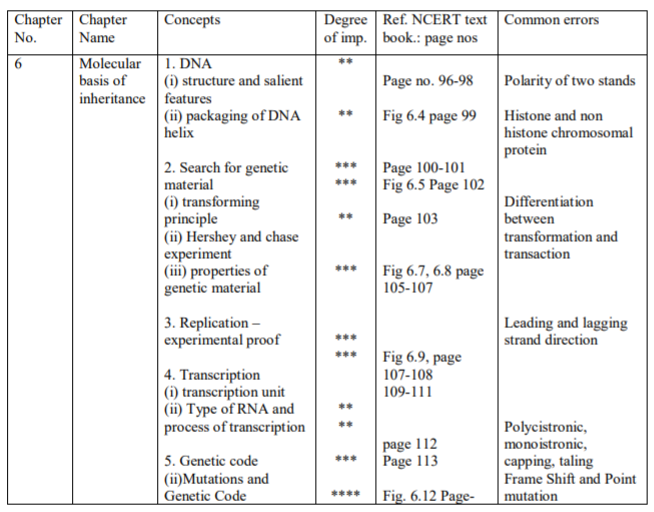 Definitions
ANTICODON :- The sequence of nitrogenous bases on RNA that is complementary to the codon for particular amino acid.
BACTERIOPHAGE :- A virus that infects a bacterium.
CODON :- It is a sequence of three nitrogenous bases on m-RNA that code for a particular amino acid.
CONSTITUTIVE GENES :- Constitutive genes are those genes which are constantly expressed & whose products are continuously needed for cellular activity.
DNA POLYMORPHORISM :- Refers to the variations at genetic level where an inheritable mutation is observed in a population in a frequency greater than 0.01.
EXON :- The regions of a gene which become part of m-RNA & code for the different regions of proteins.
FRAME SHIFT MUTATION :- A type of mutation where addition or deletion of one or two bases changes the reading frame from the site of mutation, resulting in a protein with a different set of amino acids.
GENE :- Segment of DNA that code for RNA/functional unit of heredity.
INTRONS :- The regions of a gene which do not form part of m-RNA and are removed.
NUCLEOSOME :- Structure formed when negatively charged DNA is wrapped around the positively charged histone octamer.
OPERON :- All the genes controlling a metabolic process constitute an operon.
ORIGIN OF REPLICATION :- It is the definite region of DNA where replication originates starts.
REPLICATION FORK :- The Y- shaped structure formed when the double standard DNA is unwound up to a point during its replication.
SATELLITE DNA :- The repetitive DNA sequences which do not code for any protein, but form a large portion of human genome; and show high degree of polymorphorism.
SILENT MUTATION :- Mutation which do not cause any change in protein.
SPLICING :- The process in eukaryotic genes by which the introns are removed are the  exons are joined together to form m-RNA.
TRANSCRIPTION :- It is the process of formation of RNA from DNA.
TRANSFORMATION :- It is the phenomenon by which the DNA isolated from one type of cell, when introduced into another type is able to bestow some of the properties of the former
to later.
TRANSLATION :- It is the process of polymerization of amino acids to form a polypeptide dictated by mRNA.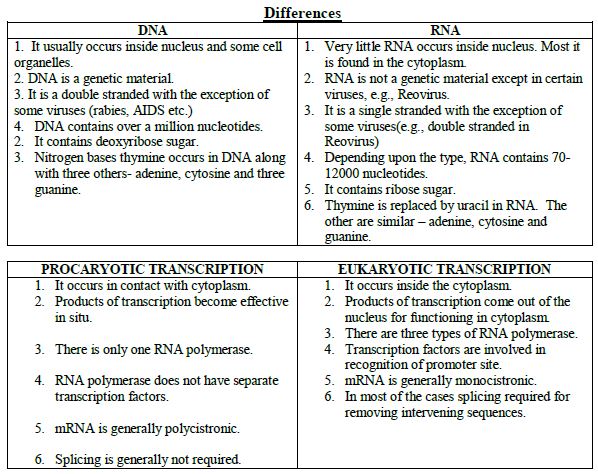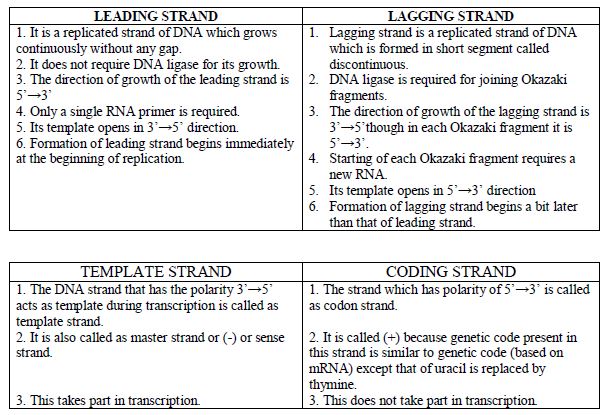 Please click the link below to download pdf file for CBSE Class 12 Biology - Molecular Basis of Inheritance Study Guide.