Download CBSE Class 12 Biology Molecular Basis Of Inheritance Notes Set B in PDF format. All Revision notes for Class 12 Biology have been designed as per the latest syllabus and updated chapters given in your textbook for Biology in Standard 12. Our teachers have designed these concept notes for the benefit of Grade 12 students. You should use these chapter wise notes for revision on daily basis. These study notes can also be used for learning each chapter and its important and difficult topics or revision just before your exams to help you get better scores in upcoming examinations, You can also use Printable notes for Class 12 Biology for faster revision of difficult topics and get higher rank. After reading these notes also refer to MCQ questions for Class 12 Biology given our website
Molecular Basis Of Inheritance Class 12 Biology Revision Notes
Class 12 Biology students should refer to the following concepts and notes for Molecular Basis Of Inheritance in standard 12. These exam notes for Grade 12 Biology will be very useful for upcoming class tests and examinations and help you to score good marks
Molecular Basis Of Inheritance Notes Class 12 Biology
 MOLECULAR BASIS OF INHERITANCE
•The cell is the fundamental unit of the living organisms has a complex network of many structures being coordinated by the large molecule-DNA
•DNA is a long polymer of nucleotides.
• A nucleotide has three parts – deoxyribose sugar, nitrogenous base and phosphate group.
• There are two types of nitrogenous bases namely two Purines(double ring structure)- Adenine (A) and Guanine(G) and two pyrimidines (single ring structure)-Thymine (T) and Cytosine (C)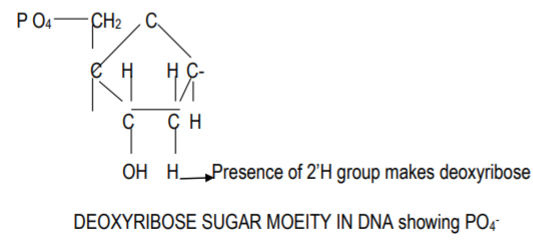 • The molecule consists of large number of nucleotides joined together between the sugars and the phosphates by 3'-5' phosphodiester bonds.
• The sugar-phosphate linked structure forms the backbone of the molecule
• We can see the presence of OH- group at the 3'C and PO4- group at the 5'C.
• The molecule is double helical right handed structure (B-DNA) consisting of two antiparallel polynucleotide strands and held by hydrogen bonds.
• Two strands are complementary to each other ie., adenine(A) in strand with pair with thymine (T) in the opposite strand and vice versa. Like wise, Cytosine (C) will pair with Guanine (G) . We can understand that the base sequence in of the strand is known, the base sequence of the complementary strand can be deduced.
•One strand shows the polarity 5' → 3' and the other will show 3' → 5'
• Adenine pairs with Thymine by two hydrogen bonds and guanine pairs with Cytosine by three hydrogen bonds. 
A — T OR T — A
C≡ G OR G ≡ C
• The double strand molecule has alternate major groove and minor groove held by proteins called histones (in the case of eukaryotes).
• The biochemical work of Erwin Chargaff reveals that A+T/C+G= 1 and so A+G = T+C. Therefore, purines are always equal to pyrimidines (1:1). We must keep In mind that A+T= C+G.
•The purine and pyrimidine bases are spaced by 0.34nm(3.4Ao) apart which gives 10 base pairs in one complete turn of the backbone. It results in 3.4nm (34Ao) per each complete turn of the helix. 
PACKAGING OF DNA
• The nucleoplasm of the nucleus (Eukaryotes) has the mesh of chromatin. The chromatin fibre appears to a long string like structure having beads. The beads represents nucleosomes.
• Interestingly, it appears like a rugby ball when viewed the three dimensional shape.
• Nucleosome cores consist of an octamer of two molecules each of 4 histones namely H2A. H2B, H3, and H4.A fifth kind histone(H1) is located on the linker DNA between the nucleosome particles. The core is wrapped by superhelical strand of DNA having 165bp in two turns.
• Histones has rich of basic amino acids lysines and arginines , it is positively charged and you are aware that DNA is negatively charged particle.
• Further packaging is done by Non-histone chromosomal proteins(NHC). 
• DNA is revealed as purple colour by the feulgen stain. It shows light regions (Euchromatin) and dark regions (heterochromatin). Remember, euchromatin is the regions of active DNA.

IN SEARCH OF GENETIC MATERIAL
TRANSFORMING PRINCIPLE
• Fredrick Griffith proposed this principle of Transformation by conducting the experiment on mice by injecting two strains namely R (rough) and S(smooth having capsule made of polysaccharide) . R strain is non-virulent and S is virulent.

• Live R strain Mice Alive

• Live S strain Mice Die

• Heat-killed S strain Mice Alive

• Heat killed S strain + live R strain Mice Mice die

Griffith concluded that live R strain became transformed as virulent due to heat-killed S strain.

IDENTIFICATION OF THE TRANSFORMING PRINCIPLE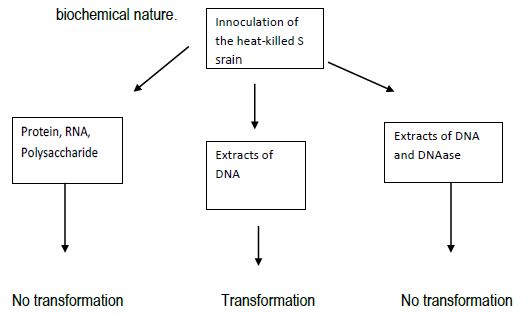 • It was tested by Oswald Avery, Colin Mcleod and Maclyn McCarty to determine the biochemical nature.

• It is concluded that the transforming principle is DNA 
Further proof by Hershey and Chase experiment

• They did the experiment by using phage having radioactive labelled S35 and other set of the phage having P32.

The flow chart is shown WITH STEPS INVOLVED


E.coli has P32 and not S35 indicating the DNA .

DNA REPLICATION
• DNA replication takes place during the `S' phase of the interphase in the cell-cycle(glance class XI-NCERT text Book)

• It is semi-conservative in nature ie., in each DNA molecule, one strand is old and the other newly formed strand.

EXPERIMENTAL PROOF
• The semi-conservative type of replication was confirmed by Meselson and Stahl in 1958.

• E.coli was grown in N15 medium (heavy density non-radioactive isotope) for many generations. And centrifuged with CsCl2 density gradient and found as-



• Later, DNA with N15 were transferred to a N14 medium and allowed to replicate.(Replication duration is 20 min).

• After 20 minutes, it is shown as-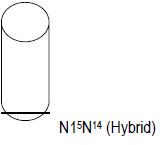 • After 40 minutes, it reveals-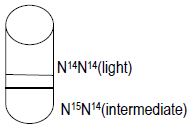 • The various steps involved are as follows:

- The process starts at a specific point called origin of replication(ori). The strand breaksfollowed by cleaving of hydrogen bonds.

- The two strands starts un winding by the enzyme helicase.

- It appears like `Y; shaped and it refers as replication fork.
Please click the link below to download pdf file for CBSE Class 12 Biology - Molecular Basis Of Inheritance notes.
Click for more Biology Study Material
›