Download CBSE Class 12 Biology Environmental Issues Minds Map in PDF format. All Revision notes for Class 12 Biology have been designed as per the latest syllabus and updated chapters given in your textbook for Biology in Standard 12. Our teachers have designed these concept notes for the benefit of Grade 12 students. You should use these chapter wise notes for revision on daily basis. These study notes can also be used for learning each chapter and its important and difficult topics or revision just before your exams to help you get better scores in upcoming examinations, You can also use Printable notes for Class 12 Biology for faster revision of difficult topics and get higher rank. After reading these notes also refer to MCQ questions for Class 12 Biology given our website
Environmental Issues Mind Map Class 12 Biology Revision Notes
Class 12 Biology students should refer to the following concepts and notes for Environmental Issues Mind Map in standard 12. These exam notes for Grade 12 Biology will be very useful for upcoming class tests and examinations and help you to score good marks
Environmental Issues Mind Map Notes Class 12 Biology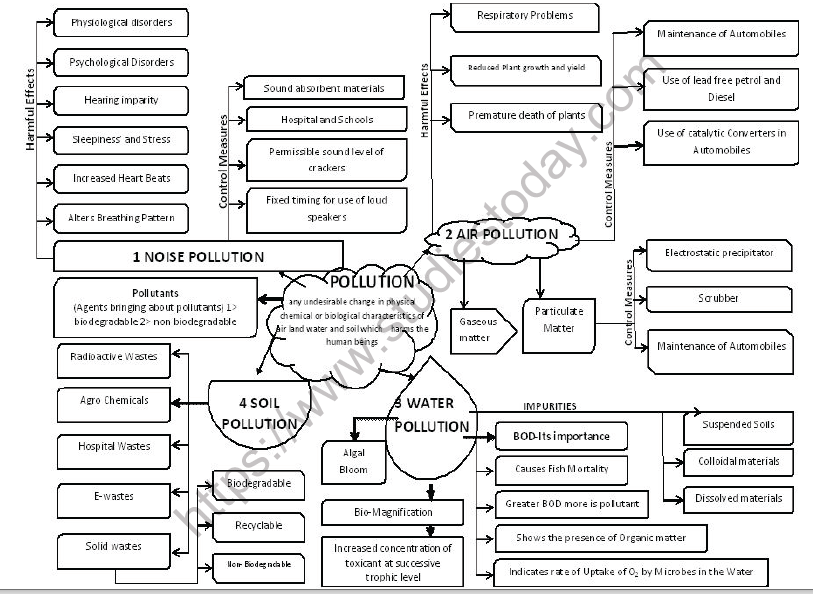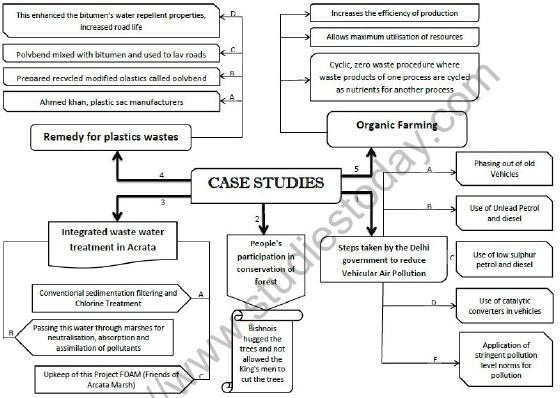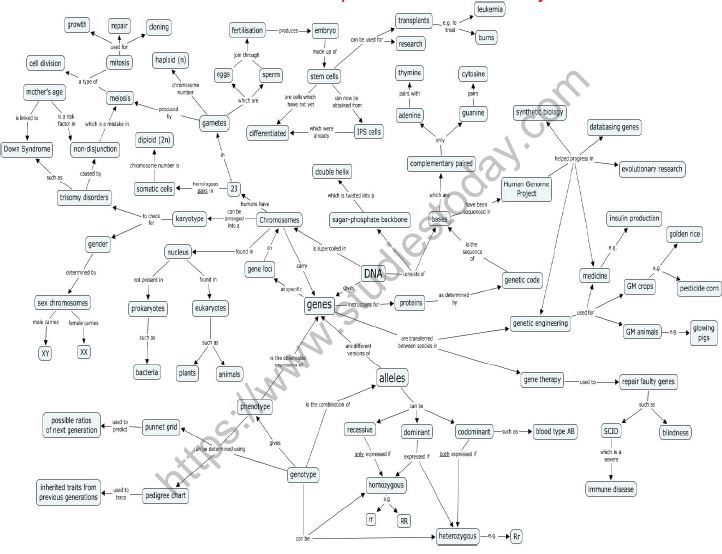 Important Questions for NCERT Class 12 Biology Environmental Issues
Ques. The zone of atmosphere in which the ozone layer is present is called
(a) ionosphere (b) mesosphere
(c) stratosphere (d) troposphere. 
Answer: C
Ques. Kyoto protocol was endorsed at
(a) CoP - 6 (b) CoP - 4
(c) CoP - 3 (d) CoP - 5.
Answer: C
Ques. The second commitment period for Kyoto Protocol was decided at
(a) Durban (b) Bali
(c) Doha (d) Cancun.
Answer: C
Ques. "Good ozone" is found in the
(a) mesosphere (b) troposphere
(c) stratosphere (d) ionosphere.
Answer: C
Ques. Global agreement in specific control strategies to reduce the release of ozone depleting substances, was adopted by
(a) Montreal Protocol (b) Kyoto Protocol
(c) Vienna Convention
(d) Rio de Janeiro Conference. 
Answer: A
Ques. Montreal Protocol aims at
(a) biodiversity conservation
(b) control of water pollution
(c) control of CO2 emission
(d) reduction of ozone depleting substances.
Answer: D
Ques. Montreal protocol which calls for appropriate action to protect the ozone layer from human activities was passed in the year
(a) 1985 (b) 1986
(c) 1987 (d) 1988. 
Answer: C
Ques. Identify the correctly matched pair.
(a) Basel convention – Biodiversity conservation
(b) Kyoto protocol – Climatic change
(c) Montreal protocol – Global warming
(d) Ramsar convention – Ground water pollution
Answer: B
Ques. In coming years, skin related disorders will be more common due to
(a) water pollution
(b) depletion of ozone layer
(c) pollutants in air
(d) use of detergents. 
Answer: B
Ques. Formation of ozone hole is maximum over
(a) Europe (b) Africa
(c) India (d) Antarctica. 
Answer: D
Ques. Which country has the greatest contribution for the hole formation in ozone layer?
(a) Russia (b) Japan
(c) USA (d) Germany 
Answer: C
Ques. Prolonged liberal irrigation of agricultural fields is likely to create the problem of
(a) acidity (b) aridity
(c) salinity (d) metal toxicity. 
Answer: C
Ques. Match the items given in column I with those in column II and select the correct option given below.
      Column I                  Column II
A. Eutrophication       (i) UV-B radiation
B. Sanitary landfill     (ii) Deforestation
C. Snow blindness     (iii) Nutrient enrichment
D. Jhum cultivation   (iv) Waste disposal
      A   B    C   D
(a) (ii) (i) (iii) (iv)
(b) (i) (iii) (iv) (ii)
(c) (iii) (iv) (i) (ii)
(d) (i) (ii) (iv) (iii) 
Answer: C
Ques. Joint Forest Management Concept was introduced in India during
(a) 1980s (b) 1990s
(c) 1960s (d) 1970s.
Answer: A
Ques. Which one of the following is a wrong statement?
(a) Most of the forests have been lost in tropical areas.
(b) Ozone in upper part of atmosphere is harmful to animals.
(c) Greenhouse effect is a natural phenomenon.
(d) Eutrophication is a natural phenomenon in freshwater bodies. 
Answer: B
Ques. Chipko movement was launched for the protection of
(a) forests (b) livestock
(c) wetlands (d) grasslands. 
Answer: A
Ques. If we uncover half of the forest covering the earth, what crisis will be produced at most and at first?
(a) Some species will be extinct.
(b) Population and ecological imbalance will rise up.
(c) Energy crisis will occur.
(d) Rest half forests will maintain this imbalance.
Answer: A
Ques. Which of the following is the main factor of desertification?
(a) Over-grazing (b) Tourism
(c) Irrigated agriculture (d) All of these 
Answer: A
Ques. Deforestation will decrease
(a) soil erosion (b) land slides
(c) soil fertility (d) rainfall. 
Answer: D
Ques. Soil conservation is
(a) conversion of sterile soil into fertile one
(b) aeration of soil (c) erosion of soil
(d) protection against loss.
Answer: D
Click for more Biology Study Material
›