Download CBSE Class 12 Biology Ecosystem Study Guide in PDF format. All Revision notes for Class 12 Biology have been designed as per the latest syllabus and updated chapters given in your textbook for Biology in Standard 12. Our teachers have designed these concept notes for the benefit of Grade 12 students. You should use these chapter wise notes for revision on daily basis. These study notes can also be used for learning each chapter and its important and difficult topics or revision just before your exams to help you get better scores in upcoming examinations, You can also use Printable notes for Class 12 Biology for faster revision of difficult topics and get higher rank. After reading these notes also refer to MCQ questions for Class 12 Biology given our website
Ecosystem Study Guide Class 12 Biology Revision Notes
Class 12 Biology students should refer to the following concepts and notes for Ecosystem Study Guide in standard 12. These exam notes for Grade 12 Biology will be very useful for upcoming class tests and examinations and help you to score good marks
Ecosystem Study Guide Notes Class 12 Biology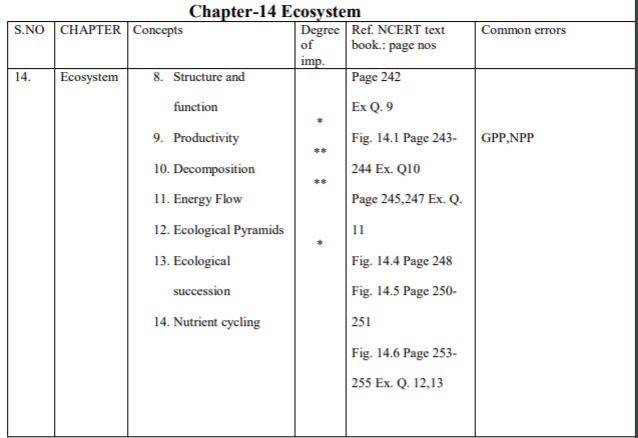 BIOGEOCHEMICAL CYCLE :- The movement of nutrient elements through various components of an ecosystem( between living organisms, soil, air and water).
BIOMASS :- The amount of organic matter present in an organism/ a trophic level / ane cosystem.
DETRITIVORES :- Organisms which feed on the detritus and break it down into smaller particles.
DETRITUS :- Dead remains of plants and animals or their wastes.
ECOLOGICAL PYRAMIDS :- Representation of trophic structure ( Number, Biomass . or Energy at various trophic levels) of a food chain.
ECOLOGICAL SUCCESSION :- Phenomenon in which structure and composition of a community changes in an orderly and sequential manner leading to the climax community.
ECOSYSTEM: - Functional unit of nature where living organism interact among themselves and also with physical environment.
ECOSYSTEM SERVICES: - The products of ecosystems processes are termed as ecosystem services.
FOOD WEB: - A network formed by interconnected the food chain. 
HUMIFICATION: - Process of changing Detritus into a dark coloured amorphous matter called humus.
HYDRARCH: - Ecological succession in water bodies like lakes resulting in climax community.
MINERALISATION :- Process of Degradation of Humus by some microbes into Inorganic nutrients.
PIONEER SPECIES:-The species which invade a bare area and initiate the ecological succession.
PRIMARY PRODUCTIVITY: - Amount of biomass or organic matter produced per unit area over a time period by the plants.
PRIMARY SUCCESSSION: - Ecological succession on previously sterile area such as bare rocks or lake forming climax community.
PRODUCTIVITY:-Rate of production of biomass.
SECONDARY PRODUCTIVITY:- The rate of assimilation and formation of new organic matter by consumer.
SECONDARY SUCCESSION: - Ecological succession in an area where previously established community is destroyed due to fire or floods etc.
SERE :- The sequence in which one community is replaced in an area by another resulting in a climax community.
STANDING CROP :- The amount of living matter(biomass) present at a trophic level.
STANDING STATE :- The amount of nutrients present in the soil at any given time.
STRATIFICATION :-Vertical distribution of different species occupying different levels in an ecosystems.
TROPHIC LEVEL :- Every step or link of a food chain.
XERARCH :- Ecological succession on bare rocks or sand resulting in climax climax community. 
ASSIGNMENTS
LEVEL1:-
Q1 ) What is biomass ?
Q2 ) Name the four important functional aspects of ecosystem
Q3) Name the two forms of reservoir of carbon that regulate the ecosystem carbon cycle .
Q4) Name the dominant producers in a deep aquatic ecosystem .
Q5) What is NPP?
Q6. What are the two basic catagories of ecosystem? Give example
Q7.What is food chain? Give an example.
Q8. Describe the major components of ecosystem
LEVEL 2
Q1) What do you mean by transducers ?
Q2) What is meant by productivity of a trophic level ?
Q3) Which species is the pioneer species on a bare rock
Q4.What are decomposers? Write their function.
Q5.What is the difference between gaseous and sedimentary cycle?

Q6.Mention two factors by which productivity is limited in an aquatic ecosystem.

Q7.Expand PAR, How much PAR is used in gross primary productivity?

Q8.Give account of factors affecting the rate of decomposition.

Q9) What are ecological pyramids ? Mention its limitations .

Q11. Give an account of energy flow in an ecosystem.

LEVEL 3
Q1) Why the pyramid of energy is always upright ?

Q2) What is bioenergetics ?

Q3.Why is the length of a food chain in an ecosystem generally limited to 3-4 trophic levels?

Q4.What are the differences between detritus and grazing food chains?

Q5.Briefly describe the process of decomposition

Q6 .Describe pond as an ecosystem .

Q7.What is xerosere? Describe the process of succession on a bare rock

QUESTIONS FOR SELF EVALUATION
1. Which ecosystem has maximum stratification?

2. What is the approximate value of Net Primary Productivity of the biosphere?

3. Find out the consumer of top order/ top carnivore from the following food chains.

a) Phytoplankton - small fishes - large fishes - Hawk

4. Based on the following information, answer the A, B, C and D with reference to Grass land ecosystem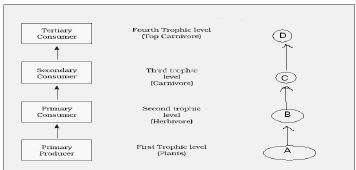 5. . Longer food chains are not viable in the ecosystem from the energy point of view. Why?

6. Why food chains in the environment are operative in the form of food web?

7. i) Complete the steps of decomposition process by using a suitable terminology in a & b.

(ii) List the factors which affect decomposition process.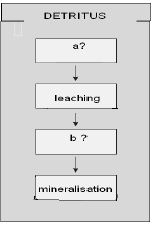 8. Complete the following simplified schematic diagram of Phosphorous cycle by writing the correct answer for 'A', 'B', 'X' and 'Y'.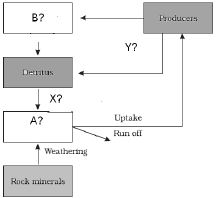 9. Why are all the pyramids upright in most of the ecosystems?

10. Primary productivity of tropical rain forest is highest among terrestrial ecosystems while that of desert is lowest. Which factors are responsible for this difference?
Please click the link below to download pdf file for CBSE Class 12 Biology - Ecosystem Study Guide.
Click for more Biology Study Material
›