CBSE gives an advanced form of education. They try to indulge students in interactions and teach application based subjects along with some others.
Due to this preponderance of parents, they tend to admit their children in CBSE affiliated schools.
General conditions for admission in CBSE affiliated schools :
Students looking for admission in classes from 5th to 12th should have a record of passing their previous classes from a recognized board.
He/she should pass the entrance or qualifying test. As required by the institution for making him/her eligible for admission in that class.
Satisfying the mentioned age limit which is determined by the state govt. is important.
A transfer certificate signed by the principal or head of the former institution is required.
A birth certificate and migration certificate are also mentioned for submission.
Specific requirements for admissions according to the following classes:
Admission up to class VIII:
For class VIII and classes below, the norms and other rules are set by the State or Union territory's government. It is designed according to the need of the education level of the respective state or UT.
Furthermore, it varies from state to state. To get admission in class 8th or below one needs to go through norms of different states individually.
Admission to Class X:
Students who have passed their primary studies are eligible. Along with that, they should be formerly the student of CBSE affiliated school.
Students complete their primary studies from different institutions. If they are recognized by the state or union territory government then they are also considered eligible.
Admission to class X:
CBSE has designed the syllabus of Class IX & XII as an integrated course. Therefore no admission is taken in class X. Provided further with some exceptions, students only with the following conditions are admitted in schools:
Only if the student has passed IX as a regular student from CBSE affiliated school.
Some students pass class IX from a recognized board other than CBSE. Then they can get admission only if their parents are transferring or shifting of families.
After procuring from the student, the mark sheet of Class IX is required. And so is the migration and transfer certificate signed by the respective authorities of the board.
In case of such kind of admission emergency procedures the schools receive post facto approval.
This approval is sent by the board after or within 1 month of admission of the transferred candidate.
Admission to class XI:
The procedure of admission in higher secondary standard is open only to students with the following essentials:
The applicant should have completed their secondary education by CBSE affiliated school.
If not from CBSE affiliated school he/she should have completed class X. Not particularly from CBSE board. The applicant can be from any other recognized board or an equivalent examination by other education boards.
Admission to Class XII:
For prior information, ideally, no admissions are granted in class XII. But admission is given in the following conditions:
The student should have passed class XI as a regular student.
Due to some specific reasons, their families are transferred and thereby can seek admission.
He/she should belong to the CBSE affiliated school.
If the student is from any other board then their admission is possible. But only if their parents are transferring or family is shifting.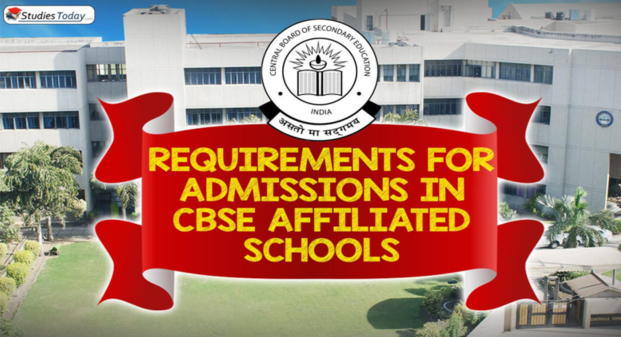 Admission procedure:
Admission form and its registration according to the format prescribed. The format designed by the respective State government/ Kendriya Vidyalaya Sangathan.
An admission enrolment number is assigned to each admitted student. Students are expected to retain the number safely.
In case a student is applying for admission to any other school, they need certain documents. A transfer certificate is must to be produced and submitted before registration of admission.
Students are not admitted to any class higher than they are entitled to.
Thus admissions criteria mentioned above are important to keep in mind before registering in any higher secondary institution