CBSE has announced to extend dates for SGC scholarship. Previously the dates to submit the SGC scholarship form were 18 October 2019.
Now dates have shifted. For online submission, the last date is 31st October. Whereas date for submission of hard copies of renewal forms of SGC merit scholarship is 25th November 2019.
Eligibility:
SGC merit scholarship is only for single girl child of respective families. And only they are eligible to apply.
It is given on the basis of the merit list prepared after the CBSE class Xth examination.
Further, students who have qualified class X with aggregate more than 60% are eligible as an applicant for SGC merit scholarship.
Single girl child with their school fees less than 1500 are eligible to apply for the scholarship.
Candidate applying must study in the schools affiliated with the CBSE board.
Alongside, student should continue their studies pf class XI & XII in CBSE affiliated schools.
In addition to this, the submission of an original affidavit is essential. It should be attested by a First class Judicial Officer or Notary.
The above affidavit should remain in the prescribed format. (The format is available on the official website)
Photocopy of affidavit is not accepted.
SGC scholarships are awarded to the Indian nationals only.
Girls can also get concessions in their tuition fees.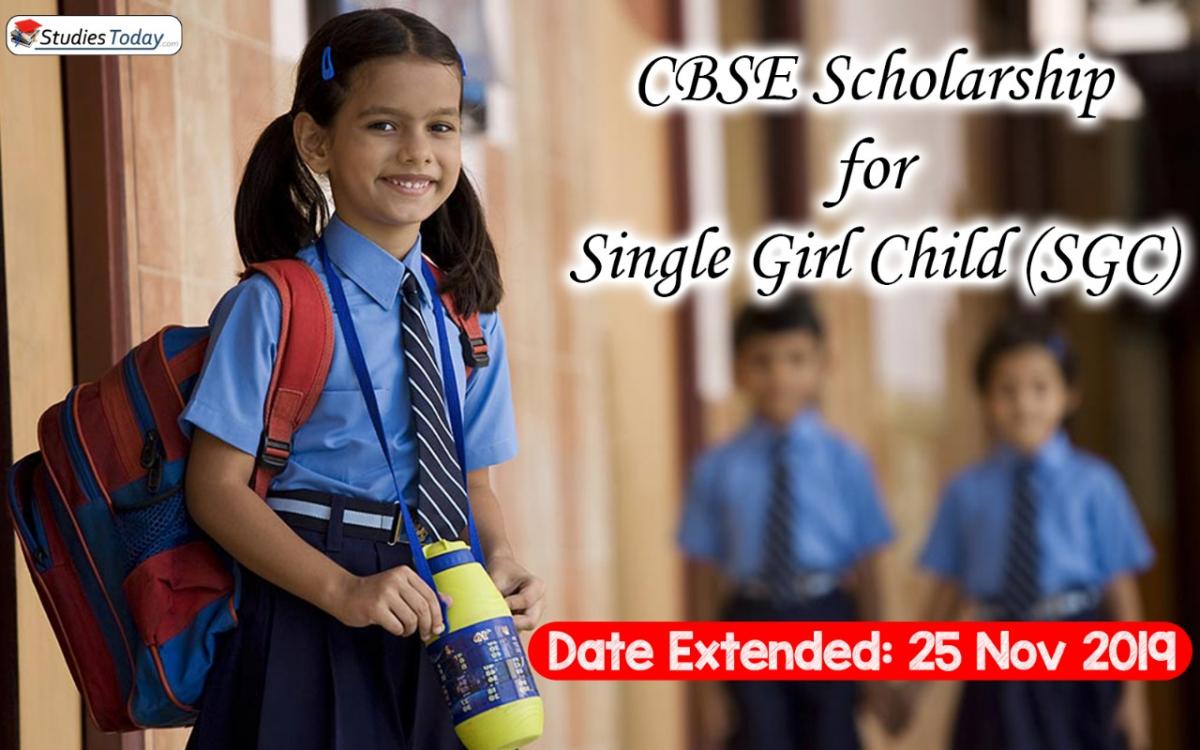 How to apply for an SGC merit scholarship??
-Firstly login to the CBSE Official website
- Secondly, click on the 'Guidelines and Application forms/Apply Online ' icon given on the homepage enter all the particulars and submit the form
- Registration number is then displayed on the page, note it down. It is important for uploading documents and also communication.
- As per the Guidelines document print the undertaking. Fill it, pate your photo and get it attested from your respective schools.
- Prepare affidavit according to the given norms in the guideline document.
- Create up to 1 MB size file of the guideline document and undertaking document.
- Upload both documents in the 'upload document' option.
- Visit the 'confirmation page' and generate a confirmation page.
The confirmation page only appears if the application process is correct. If the confirmation page is not displayed, it shows that your application will not be processed.
NOTE:
NRI applicants of CBSE board are also eligible for SGC Merit Scholarship. Furthermore, the tuition fees criteria for such NRI students are decided to be 6000Rs per month for them.
Scholarship offered and Renewal:
This scholarship is For providing and encouraging Indian parents towards girl's education. According to the scheme, the eligible girls will get Rs. 500 monthly.
Concept behind SGC merit scholarship:
SGC merit scholarship was proposed by CBSE as a step towards promoting education for girls.
It was a response to the situations where parents refused to let their girls to school. That too only due to lack of money. SGC merit scholarship thus is a boon to poor girl childs. Strengthening the poor families financially proves to be a great deed.
Not only financial support this has also helped in finding great talents who otherwise are ignored. Girls education is thus a great deal to be dealt with. There are still a lot of girls doing household chores and not going to school.