Read and download free pdf of CBSE Class 10 Physics Revision Assignment Set E. Get printable school Assignments for Class 10 Physics. Standard 10 students should practise questions and answers given here for Physics in Grade 10 which will help them to strengthen their understanding of all important topics. Students should also download free pdf of Printable Worksheets for Class 10 Physics prepared as per the latest books and syllabus issued by NCERT, CBSE, KVS and do problems daily to score better marks in tests and examinations
Revision Class 10 Physics Assignment Pdf
Class 10 Physics students should refer to the following printable assignment in Pdf for Revision in standard 10. This test paper with questions and answers for Grade 10 Physics will be very useful for exams and help you to score good marks
Class 10 Physics Assignment for Revision
(1) Given a resistor each of resistance R, how will you combine them to get the a) maximum & b) minimum effective resistance. & what is the ratio of the maximum to minimum resistance?
(2) Two electric bulbs of 50 watt & 100 watt are given which one will brighter when they are connected in (i) series (ii) in parallel ?
(3) The V-I graph of metallic wire at two temperature?
T1 and T2 is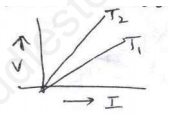 Which of the two temps? Is higher & why?
(4) Why is an ammeter likely to be burnt out if you connect it in parallel ?
Please click the below link to access CBSE Class 10 Physics Revision Assignment Set E