Read and download free pdf of CBSE Class 4 EVS Assignment Set E. Get printable school Assignments for Class 4 Environmental Studies. Standard 4 students should practise questions and answers given here for Environmental Studies in Grade 4 which will help them to strengthen their understanding of all important topics. Students should also download free pdf of Printable Worksheets for Class 4 Environmental Studies prepared as per the latest books and syllabus issued by NCERT, CBSE, KVS and do problems daily to score better marks in tests and examinations
Environmental Studies Assignment for Class 4
Class 4 Environmental Studies students should refer to the following printable assignment in Pdf in standard 4. This test paper with questions and answers for Grade 4 Environmental Studies will be very useful for exams and help you to score good marks
Class 4 Environmental Studies Assignment Pdf
A. Here is a list of some foods:
1. Plain drinking water.
2. High- fibre foods.
3. Fruits/vegetables.
4. Homemade soup with less sugar/salt.
5. Pastries, cakes and doughnuts.
6. Soft drinks.
7. Biscuits, cookies.
List these foods as good foods and bad foods:
Good foods              Bad foods
B. Write true or false
1. We should always wash our hands before and after meals. [ ]
2. We should eat junk foods. [ ]
3. We must take balanced food. [ ]
4. Chew with your mouth closed. [ ]
5. We should not say thank you when server something. [ ]
6. Always use a napkin to clean your mouth. [ ]
C. Look at these pictures. Write six sentences about these pictures showing respect?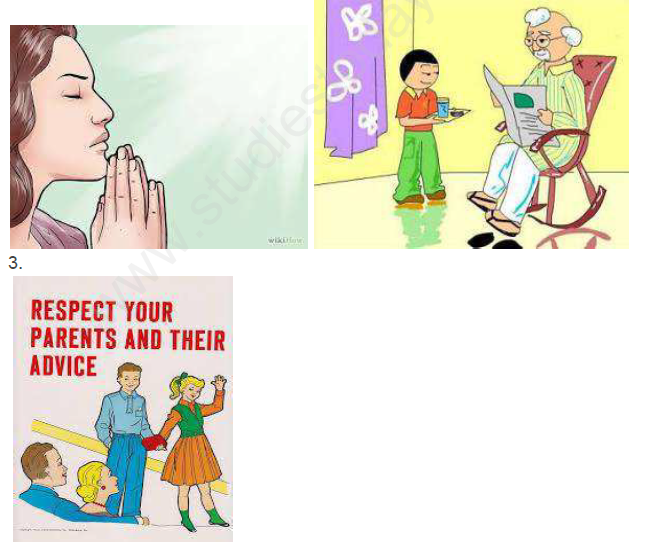 Please click the link below to download CBSE Class 4 EVS Assignment Set E
Click for more Environmental Studies Study Material
›