Read and download free pdf of CBSE Class 11 Accountancy Revision Assignment Set A. Get printable school Assignments for Class 11 Accountancy. Standard 11 students should practise questions and answers given here for Accountancy in Grade 11 which will help them to strengthen their understanding of all important topics. Students should also download free pdf of Printable Worksheets for Class 11 Accountancy prepared as per the latest books and syllabus issued by NCERT, CBSE, KVS and do problems daily to score better marks in tests and examinations
1. What do mean by error of principle?
2. Rectify the following errors?
a) Purchases of goods of Rs.50,000 from Ford recorded as sales return.
b) Sales of goods of Rs.1,50,000 to Rabindra recorded as purchases in the book.
c) Paid cash to Sohan Rs. 65,000 recorded in the credit side of Sohan as Rs.56,000.
d) Sales return book over cast by Rs.6700.
e) Rent paid to land lord  Rs.5500 debited to rent account Rs.4500.
f) Salary paid to clerk Rs.6800 recorded to debit side of clerk.
3. From the following Trial Balance of Bharat Hind Sales Organisation as on 31 March 2011,
Prepare Final Account.
Plant & Machinery Rs.1,00,000, B/R Rs.5,000, B/P Rs.4,000, Salaries Rs.10,000, Office Expense Rs.4,000, Discount a/c(Cr.) Rs.1,500, Land & Building Rs.42,000, Sales Rs.2,30,000, Stock(1.7.00) Rs.50,000, Motor Car Rs.42,000, Factory Lights  Rs.15,500, S/Creditors Rs.40,000, Return inward Rs.5,000, Return Outward Rs.3,000, Loan Rs.20,000, Furniture Rs.6,000, Advertisement Rs.1,200 Income Tax Rs.1,500, Traveling Exp. Rs.6,850, Reserve Fund Rs.28,000, Capital Rs.2,00,000.Drawing Rs.15,000, Purchases Rs.85,000.Investment Rs.25,000, Interest on Investment Rs.1,250, wages Rs.30,000, Cash in hand Rs.1,000, Cash at Bank Rs.10,000, Sundry Debtors Rs.70,700, Legal expenses Rs.4,000, provision for bad debts Rs.2,000.
Adjustments : a) Closing Stock Rs.78,000. (b) Goods of Rs.3,000 given as charity. (c) Rs.7,000 taken by proprietor for personal use. (d) Write off further bad debts Rs.700 and create provision for bad debts 5% on debtors and also create provision for discount on debtor 2%.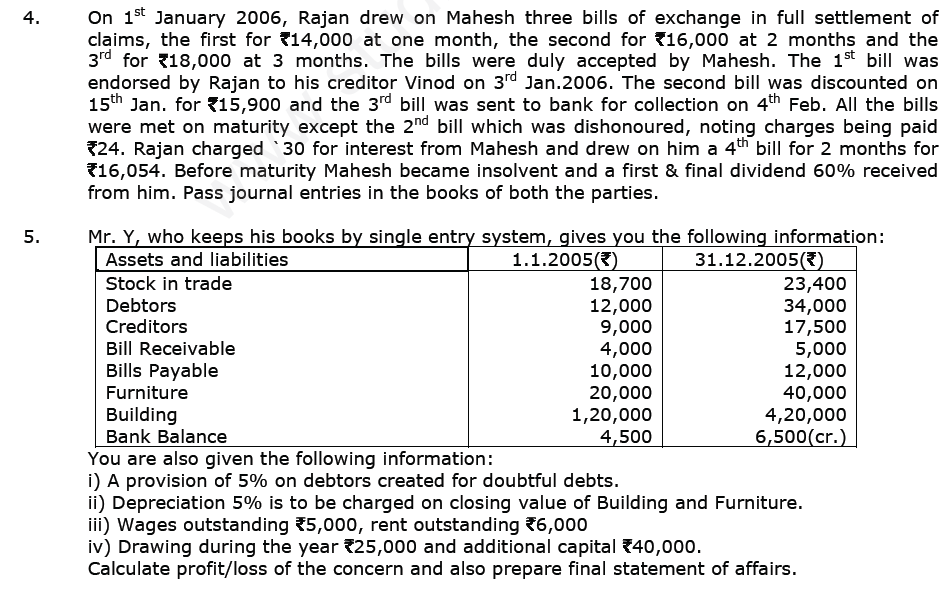 Please click the below link to access CBSE Class 11 Accountancy Revision Assignment Set A
Click for more Accountancy Study Material
›