NCERT Solutions for Class 8 Mathematics for Chapter 5 Data Handling
The NCERT Solutions have been made by teachers of one of the leading schools in India. Students can free download the solutions in pdf format and use for studies.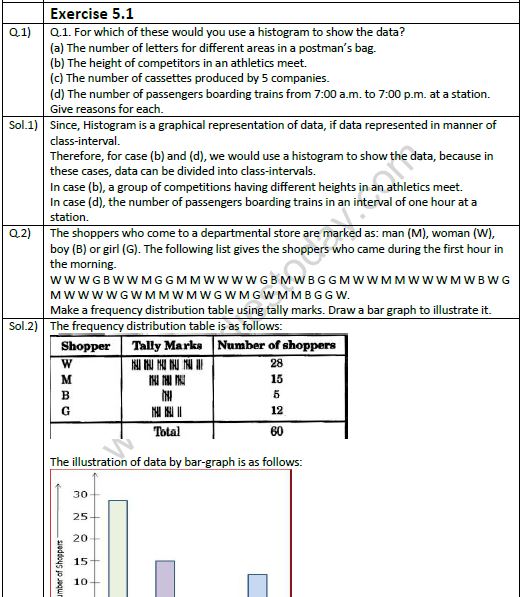 Click on the below link to download Chapter 5 Data Handling NCERT Solutions

For more study material for Mathematics please click here -
Mathematics
More Related Content
Assignments
Question Papers
Sample Papers
Worksheets
CBSE Syllabus
NCERT Books
NCERT Solution
MCQs
Online Test
Exemplar Solutions
RD Sharma Solutions
RS Aggarwal Solutions
Assignments
Worksheets
NCERT Books
Concepts
Latest CBSE News
In continuation of the efforts of the government to standardize the education system across the country, government has decided to implement NCERT curriculum system in Tripura also. The education minister of Tripura announced that from next academic year which is starting from 1st April, NCERT (National Council for Educational Research and Training) will be applicable in all schools in Tripura....

CBSE has issued a circular to students and various schools to increase awareness amongst students regarding careful disposal of e-waste. CBSE has issued a letter from Ministry of Ministry of Electronics & Information Technology (MeitY),Govt. of India regarding increasing awareness programme on Environmental Hazards of Electronic Waste amongst students. The schools have been advised to tell...

CBSE has released the following FAQs for Class 11 Academic Session 2018-19 for Computer Science and Informatics Practices - New Syllabus Frequently Asked Questions (FAQs) Class XI (Academic Session 2018-19) Informatics Practices (New Syllabus) 1. Which version of Python should be preferred? Ans: Version 3.x. Preferably 3.6.4 and above.  2. From where Python can be downloaded? Ans: Python Language...

In continuation to earlier Circular issued by the Central Board of Secondary Education (CBSE) on guidelines for Safe and Effective Use of Internet and Digital Technologies in schools and school buses, it is brought to the notice of the schools that precautions may be taken against an online game namely 'Momo Challenge'. In this connection, Ministry of Electronics & Information Technology (...

NCERT is an organization which was formed by the Government of India in 1961. The organisation was formed by merging atleast seven government education institutions. The NCERT was formed to standardize the education system in India. The main objective was to publish high quality NCERT books which can be implemented in the entire country to ensure standard education system across the country....

In today's world, competition is very tough. Students have to go through a lot in order to complete their education with top ranking. As our educational system is developing, we are being provided with high level problems and questions to practice and sharp our minds. The process of preparing for an exam requires a rigorous amount of practice, concept-building, problem solving and error...

Government has been working on revamping the school level education system for all CBSE affiliated schools in India. HRD ministry has recently asked for suggestions from teachers, students and parents on the syllabus contents. Thousands of respondents along with teachers submitted their responses on the MHRD website on their opinion about the syllabus for various classes and what all topics to...