NCERT Solutions for Class 8 Mathematics for chapter 7 Cube and Cube Roots
The NCERT Solutions have been made by teachers of one of the leading schools in India. Students can free download the solutions in pdf format and use for studies.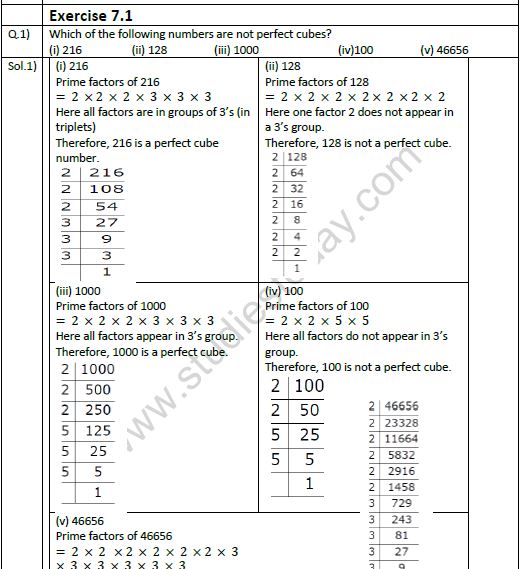 Click on the below link to download chapter 7 Cube and Cube Roots NCERT Solutions

For more study material for Mathematics please click here -
Mathematics
More Related Content
Assignments
Question Papers
Sample Papers
Worksheets
CBSE Syllabus
NCERT Books
Latest CBSE News
National achievement survey (NAS) for Class 10 will beheld by the national council for educational research and training (NCERT), New Delhi on 5th February for students in almost 360 government schools across Goa. The NAS test will be conducted for mathematics, English, social sciences, science and modern Indian languages. The test will be held in school premises and will be invigilated by the...

The Central Board of Secondary Education (CBSE) has started its helpline for students appearing in the upcoming examinations. The board exams for class 10 and class 12 are due to start from 5th March and will continue till 13th April. To help the students to resolve any query they might have for the examinations or to get tips from teachers they can call the helpline started by CBSE. The...

The Board of School Education Haryana (BSEH) has released the datesheet for the board examinations for Class 10 and Class 12. The exams are going to start on March 7 and end on April 3. Th exams for both class 10 and 12 will be held parallelly between 12.30 to 3.30 pm and both exams will start with English as the first exam. There is enough gap between the dates of the exams thus giving enough...

Watch here Padmavati by NCERT - Rani Padmini यह कार्यक्रम चित्तौड़ के राणा रतन सिंह की पत्नी रानी पद्मिनी के जौहर और दिल्ली के सुल्तान अलाउद्दीन खिलजी के चित्तौड़गढ़ पर आक्रमण का वर्णन करता है

Google has partnered with NCERT to educate children on Digital Citizenship and Safety. As per latest news from Google, they will help NCERT in designing study material on awareness on being good and responsible digital citizens. This new curriculum will be introduced in computers or Information and Communication Technology (ICT) curriculum in schools from class 1 till class 12. Nowadays students...