NCERT Solutions for Class 8 Mathematics for chapter 9 Algebraic expressions and identities
The NCERT Solutions have been made by teachers of one of the leading schools in India. Students can free download the solutions in pdf format and use for studies.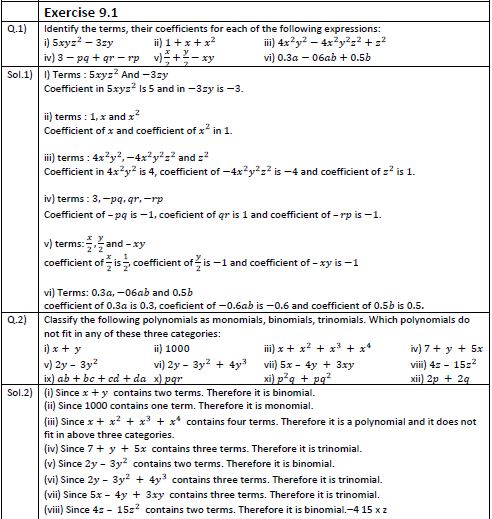 Click on the below link to download chapter 9 Algebraic expressions and identities NCERT Solutions

For more study material for Mathematics please click here -
Mathematics
More Related Content
Assignments
Question Papers
Sample Papers
Worksheets
CBSE Syllabus
NCERT Books
Latest CBSE News
National Council of Educational Research and Training is going to conduct a National Achievement Test (NAS Test) for Class 10 students of CBSE, ICSE affiliated schools and on February 5 in Gurugram (Gurgaon). The test is scheduled to be conducted in more than 100 private and government schools in the city. The test will be conducted for five subjects which are mathematics, English, social and...

Class 10 and class 12 board examination students can now air their concerns regarding the questions which will come in the board examinations directly to CBSE. A latest announcement has come from CBSE which states that an observation schedule will be developed by CBSE according to which the students or schools or even teachers can send their concerns to CBSE within 24 hours of the board exam...

As the exams are approaching PM Mr Narendra Modi has given a motivating message to students and has also launched a book which will help the students to beat stress and be a warrior and score good marks in the upcoming examinations. Watch Video here..

Concerns have been shown by the class 12 students regarding the datesheet released by CBSE for class 12 board examination. Some of the examinations are back to back leaving little space for students to relax and revise for next exam. Specifically those in the humanities/ arts stream are the most impacted as exam for psychology exam is on April 5, political science exam is on April 6 and legal...

CBSE has withdrawn the circular issued in 2017 regarding Uniform Assessment system for class 6 to class 9 in line with the changes done for class 10 and class 12 where board examinations have been introduced again. Schools have been advised to follow the same examination pattern which has been followed by the schools itself and no change have been advised in that now and all changes suggested by...