Download Class 8 Hindi NCERT Solutions, NCERT Books, Solved Sample Papers and past year question papers of various schools, All material has been prepared based on latest guidelines, term examination pattern and blueprint issued by CBSE and NCERT and is available for free download for students in pdf format
Click below for Class 8 Hindi worksheets with important questions and answers, assignments, syllabus, NCERT CBSE books, ncert solutions, hots, multiple choice questions (mcqs), easy to learn concepts and study notes of all Class 8 Hindi chapters. Also, Download CBSE Class 8 all subjects Study Material From Here.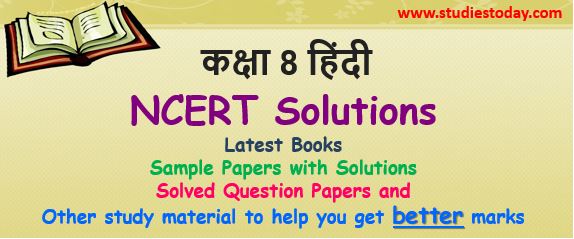 Latest CBSE News
The Central Board of Secondary Education (CBSE) conducts the board exam for class 12th every year. Students belonging to the Humanities category face a lot of problems to prepare for Economics. As you know Economics is one of the important subjects for the students who belong to the Humanities category. According to Studies Today, students shouldn't start multiple sections at a time. They shouldn...

So if you are one of the students who has just given their 10th class exam and confused about what to pursue next in your life then you have come to a right place. Today in this article we will be talking about some of the courses which students can pursue after their 10th class exam. Mostly students get confused after their 10th on what to choose and what to leave. Many students just take...

The Central Board of Secondary Education (CBSE) is likely to declare the result by May third week for class 10th and 12th. CBSE is ready for further processes. The Central Board of Secondary Education (CBSE) has been announced the Re-verification and Re-evaluation schedule on April 11, 2019. All those students who have doubts or not happy with the correction of papers can fill the Re-verification...

Last month the CBSE board exam has come to an end. This time there are no issues of any paper leakage found. Last year Central Board of Secondary Education (CBSE) had suffered a problem of paper leakage. Due to this, the Economics exam for class 12 was held again. Because of that last year incident happened, CBSE took multiple steps and actions towards the safety of question papers. CBSE...

When students prepare for the final board exams, most of the students often waste their time in choosing the right books to study for their final examination. They become confused in choosing the right study material for themselves and ends up taking the wrong books for their preparation which may even lead to failure in their board exams. National Council of Education, Research and training (...

CBSE has approved the introduction of Artificial Intelligence, early childhood care education, and yoga as new subjects in the upcoming session of April 2019. According to the new curriculum CBSE also introducing a few new subjects for the upcoming session starting from April 2019 like Artificial Intelligence, early childhood care education, and yoga. Out of those students have to choose optional...

As per the new rules and regulations of the High Court, all private schools are not bound to enhance their fee structure without the prior permission of the Fee Fixation Committee (FFC). Besides that directorate advised private schools to follow the prescribed curriculum. Directorate of School Education, Jammu has made certain changes regarding the buying of books, uniforms of private schools of...