Download Class 8 Hindi NCERT Solutions, NCERT Books, Solved Sample Papers and past year question papers of various schools, All material has been prepared based on latest guidelines, term examination pattern and blueprint issued by CBSE and NCERT and is available for free download for students in pdf format
Click below for Class 8 Hindi worksheets with important questions and answers, assignments, syllabus, NCERT CBSE books, ncert solutions, hots, multiple choice questions (mcqs), easy to learn concepts and study notes of all Class 8 Hindi chapters. Also, Download CBSE Class 8 all subjects Study Material From Here.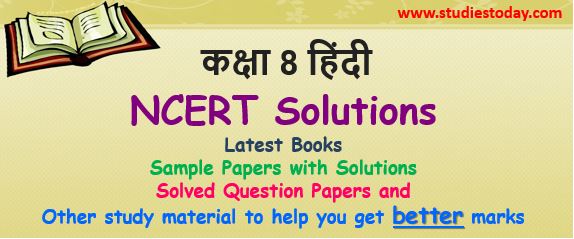 Latest CBSE News
Each one of you must have had this dilemma at least once in your lives. What time of the day is the best one to study? And if you have had this dilemma, then you most certainly would have had debates on it. Whether with your friends, your teachers or your parents. In this article, we try to clear up some ideas behind what studying time is the best for a student and what the benefits are. The time...

Relying on the reference books will be completely pointless just before exams. The best medium of scoring good marks in the CBSE 10th boards exams is the NCERT books. This statement was given by a student Hrithika Meena, of St. Xavier's school of the Nevata area in Jaipur. Being a top scorer Hrithika advises all the students, instead of mugging up the students should understand the context and...

You never realise what you have until its gone. A chocolate pastry is a good example, but here we mean the joys of your schooling years. While 18,27,472 of you who are taking the Xth Board exams will continue on your journey of discovery and exploration in school, for 12,87,359 of you who are taking the XIIth Board exams, there are higher institutions of learning awaiting your knock on their...

Mathematics is the subject which is feared by most of the students. The problem becomes more critical now since the board exam is knocking the door. Usually students develop anxiety during mathematics exam. Usually mathematics is well thought-out as a subject of calculation actually involves logic, reasoning and imagination, moreover it also involves loads of stuffs related to calculations. This...

At the forefront of the board examinations for the core subjects, the cbse or central board of education had unconfined a review for the students against the fake news on the major social Medias. CBSE's letter is a preventative endeavor to keep away from the circumstances was faced by the board in the last year throughout the board exams when gossip of leaking of question paper endlessly plagued...

NCERT i.e. National Council of Education Research and Training syllabus would be brought in the fresh academic year of class X and class XII in the Urdu and Hindi medium schools of Gujarat. This is a big and very welcoming step by the Gujarat State Board of Education. Download Urdu notes for class 10 Revealing those, on Saturday the officials told that the board has declared the welcoming of...

In a highly patriotic and important move to highlight one of the greatest men of our nation, Atal Bihari Vajpayee, the National Council of Educational Research and Training has introduced one of the poems written by this great leader in the 8th standard textbook. Must download these NCERT solutions for class 8 Hindi for free. The NCERT has taken this move with an aim to instil respect for the...