Download Class 8 English NCERT Solutions, updated books, Latest Sample Papers with solutions, and syllabus. Also get free worksheets with important questions and answers and other useful study material prepared based on latest guidelines, term examination pattern and blueprint issued by CBSE and NCERT. Get all in pdf and download free. Also Download Sample papers of sanskrit class 8 in PDF Form.
Click below for Class 8 English important questions worksheets, chapter summary and notes, latest syllabus issued by NCERT and CBSE, hots, multiple choice questions (mcqs), easy to learn concepts and study notes of all chapters.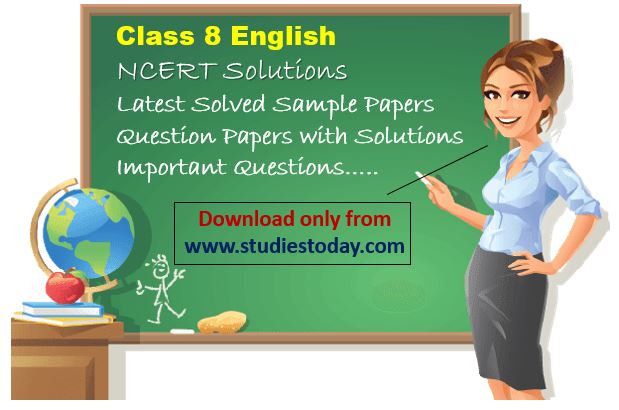 Latest CBSE News
Concentration while studying is as important. Without concentration no matter how long you have been sitting for nothing could be learnt. Like many things concentration is not something you can achieve in a night or so you have to work on it for a while. Here are some tips from some studios that may help you to improve concentration and score good. Find your motivation: many students go on...

You never realise what you have until its gone. A chocolate pastry is a good example, but here we mean the joys of your schooling years. While 18,27,472 of you who are taking the Xth Board exams will continue on your journey of discovery and exploration in school, for 12,87,359 of you who are taking the XIIth Board exams, there are higher institutions of learning awaiting your knock on their...

The latest CBSE exam pattern 2019-2020 has been announced in the First week of March 2019. The new educational programme and pattern will be available in April 2019. As per the new exam pattern, CBSE has given more weight to school-based assessment and objective type questions. Internal Assessments in All Subjects: Unfortunately, the internal assessment wasn't available in all the subjects like...

At the forefront of the board examinations for the core subjects, the cbse or central board of education had unconfined a review for the students against the fake news on the major social Medias. CBSE's letter is a preventative endeavor to keep away from the circumstances was faced by the board in the last year throughout the board exams when gossip of leaking of question paper endlessly plagued...

How many times have we heard our parents lecture us on the importance of having a set schedule? How many times have they told us about fixing a timetable and setting a routine to complete all our studies on time? You might have lost count I'm sure. But let's stop for a minute and think. Why are they constantly nagging us about these things? There surely must be a reason behind it. And yes there...

Since the board exams for both class 10 and class 12 has started, the CBSE board has instructed the parents and the students to follow some guidelines to sensify against the forged news spread through the social media platforms. The parents and the students are directed to stick on their principles stated by the CBSE Board on their official website i.e. "www.cbse.nic.in.com". All the devices such...

The central board of secondary education (CBSE) had started exams for 10th and 12th standards. The exams have started with the occupational subjects. The exams for the core subjects will start in few days time. The mathematics exam for class 10th is scheduled on 7th march. 18th March is scheduled date for the mathematics exam for class 12. Mathematics is a subject that is basically numerical...