Download Class 6 Urdu NCERT Books and other study material. Urdu as a subject is taken up by many students in India. You can download the updated books by clicking on the links
Click below to download the latest NCERT books for Class 6 Urdu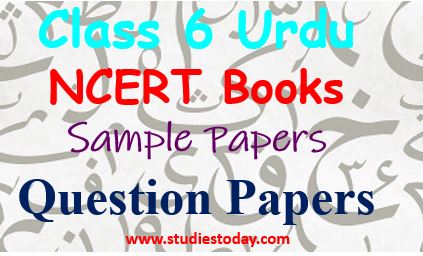 Latest CBSE News
How many times have we heard our parents lecture us on the importance of having a set schedule? How many times have they told us about fixing a timetable and setting a routine to complete all our studies on time? You might have lost count I'm sure. But let's stop for a minute and think. Why are they constantly nagging us about these things? There surely must be a reason behind it. And yes there...

The last date of online registration for admissions in Kendriya Vidyalayas was March 19, 2019. The official portal is launched by KV Sangathan functioning under the Union ministry for human resources development (MHRD) on 1st of March 2019. Interested candidates can also submit an online application form through our portal. The vacant seats will declared again on 26th March 2019 and students can...

Each one of you must have had this dilemma at least once in your lives. What time of the day is the best one to study? And if you have had this dilemma, then you most certainly would have had debates on it. Whether with your friends, your teachers or your parents. In this article, we try to clear up some ideas behind what studying time is the best for a student and what the benefits are. The time...

Mobile phones, laptops, iPods, tablets, you name a gadget and it is available for use in today's technologically advanced era. Technology and these gadgets have become quite an integral part of our lives so to say. Every day a new gadget is being introduced and humans are getting more and more dependent on technology for their day to day needs. There is probably not a single activity left in the...

A Few days ago, Central Board of Secondary Education (CBSE) launched its podcast application for all the stakeholders. As per the norms, the evaluation process for the on-going CBSE board exams 2019 has also been started. Now you can see the guidelines for the evaluation process on the podcast app of the board named CBSE Shiksha Vani. You can also download this app from Google Play Store. The...

CBSE or Central Board of Secondary Examination had declared the mathematics examination for the 10th standard. Usually, it is a one of the core subjects to most of the students. Since; nowadays in any kind of stream mathematics is required in the longer run. It is a very crucial subject for most of the students.  Mathematics offers an inimitable challenge to all the students – irrespective of...

There are just a few days left for the 12th and 10th Boards exams of CBSE to begin. Keeping this in mind, following are some tips, hacks, and advice from learned people and toppers about how you can study last minute to further enhance your performance. Your performance in the exams depends greatly on your effort throughout the year. Hard work is the key to success and since you surely would have...