Download Class 5 Drawing Arts and Craft, sample papers and question papers and worksheets covering topics natural forms landscape, flowers, shapes, pattern making, cut out scenery potato print or vegetable print greeting card clay modelling, pattern making, paper folding pencil shading, water coloring, pattern making drawing with ball pen, knife painting portrait painting, poster design knife painting, paper folding dancing bird craft work, silhouette, access study material prepared based on latest guidelines, examination pattern and blueprint issued by CBSE and NCERT.You can also Download All India General Knowledge Examination Format in PDF.
Click below for Class 5 Drawing Arts and Craft updated worksheets, assignments, latest syllabus, NCERT CBSE books, easy to learn concepts and study notes and Sample Papers Question Papers. Also, Download NCERT Solutions for Class 5th EVS in PDF Form.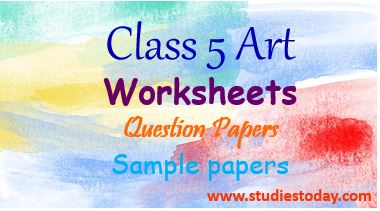 Latest CBSE News
Since last year, CBSE has made the class 10th board exams mandatory for all the schools affiliated to CBSE. Well, all the questions come in the board exam are based on the concepts and topics mentioned in the class 10th science NCERT books. For doing well in the board exams students have to prepare from the NCERT book as well as students can also refer other books to study the topics given in the...

The last date of online registration for admissions in Kendriya Vidyalayas was March 19, 2019. The official portal is launched by KV Sangathan functioning under the Union ministry for human resources development (MHRD) on 1st of March 2019. Interested candidates can also submit an online application form through our portal. The vacant seats will declared again on 26th March 2019 and students can...

As per the CBSE norms, CBSE has been introduced a new assessment and evaluation system for the next year coming board exams for Std XII. CBSE has done these changes in subjects like Maths, languages and political science. There are 2 major reasons behind these changes i.e. board's internal strategy for students growth and getting ready for the students to participate in the PISA (Programme for...

As you know that the latest CBSE pattern 2019-2020 already has been updated and announced in the 1st week of March 2019. As per the new curriculum, CBSE proposed the internal assessment and examination practices for upcoming academic session 2019-2020. This will help in upgrading the quality of the assessment process, said by city school principals and authorities. According to the new curriculum...

The Central Board of Secondary Education (CBSE) conducts the board exam for class 12th every year. Students belonging to the Humanities category face a lot of problems to prepare for Economics. As you know Economics is one of the important subjects for the students who belong to the Humanities category. According to Studies Today, students shouldn't start multiple sections at a time. They shouldn...

The Central Board of Secondary Education has improved the introduction of arts in regular learning methodology for all subjects from class 1 to class 11. The step is being taken to incorporate suggestions from associates, proposed by National Curriculum Framework (NCF) that stated: "we must bring the arts precisely into the field of the curricular". All the details regarding the implementation,...

There are some chapters in Social Science for class 10 which CBSE has decided to drop them. CBSE has taken this decision so keep in mind that these chapters are irrelevant and in future will not be included in exams. Therefore, CBSE has decided to drop five Social Science chapters from this academic session of class 10th syllabus including 'Challenges to Democracy' and 'Political Struggles and...