Download Class 5 Drawing Arts and Craft, sample papers and question papers and worksheets covering topics natural forms landscape, flowers, shapes, pattern making, cut out scenery potato print or vegetable print greeting card clay modelling, pattern making, paper folding pencil shading, water coloring, pattern making drawing with ball pen, knife painting portrait painting, poster design knife painting, paper folding dancing bird craft work, silhouette, access study material prepared based on latest guidelines, examination pattern and blueprint issued by CBSE and NCERT.You can also Download All India General Knowledge Examination Format in PDF.
Click below for Class 5 Drawing Arts and Craft updated worksheets, assignments, latest syllabus, NCERT CBSE books, easy to learn concepts and study notes and Sample Papers Question Papers. Also, Download NCERT Solutions for Class 5th EVS in PDF Form.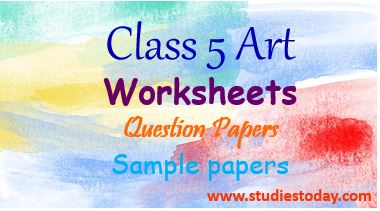 Latest CBSE News
As it is the beginning of a new school year, every 11th class CBSE passed student is eager and making plans on how to score the best in their class 12th CBSE boards. It definitely is a good start to reach their goal of scoring 90+ percentages in the exams. Students who have opted for the science stream often get very stressed upon how they are going to perform, let me tell you something…scoring a...

With the increasing number of new technologies and an increasing global population, self-study is growing. Education is no longer restricted to just the classroom. For high school self-study is very important because class 10 and class 12 sets the base for life. Also, self-studying habits help high school students in preparing for a more independent learning environment in college. Download...

While the long-standing standards for picking streams in our nation have settled that toppers and tutorially-skilled undergrads normally float towards science, it's pursued being toppled. Undergrads, today, are proactively picking the business stream, regardless of their scholarly standing. In this way, in case you're needing to pick your stream once you are done with tenth, or have just settled...

Last month Delhi government announced that the students of government schools will not be charged any fees to the Central Bureau of Secondary Education (CBSE). Well, Delhi Education Minister Manish Sisodia said this while addressing students during a function at the Thyagraj Stadium in New Delhi. All the Delhi government schools are affiliated to the CBSE as a board of education. As the Sisodia...

As all you know, the results of most state boards declared till the month of June, all intermediate or higher secondary pass students should think that how to choose the best career option for a bright and successful future. While some young people want to become doctors or engineers, others want to be teachers. If you are one of the third students to graduate to qualify for BEd and other teacher...

The Indian Board of Education is divided into two boards, CBSE and ICSE. According to the different features of the boards people choose to study in the board the prefer more. The Central Board of Secondary Education (CBSE) is a national level board of education conducted and run by the Union Government of India. It was formed 56 years ago on 3rd November 1962. It is for public and private...

As per the latest updates, the Central Board of Secondary Education is thinking to make changes in the regular pattern of practical examinations being conducted for students in the CBSE affiliated schools. The Board has decided to conduct the practical examinations at external examination centres. According to the information released by the board, the board is expected to conduct the practical...