Download Class 5 Drawing Arts and Craft, sample papers and question papers and worksheets covering topics natural forms landscape, flowers, shapes, pattern making, cut out scenery potato print or vegetable print greeting card clay modelling, pattern making, paper folding pencil shading, water coloring, pattern making drawing with ball pen, knife painting portrait painting, poster design knife painting, paper folding dancing bird craft work, silhouette, access study material prepared based on latest guidelines, examination pattern and blueprint issued by CBSE and NCERT.You can also Download All India General Knowledge Examination Format in PDF.
Click below for Class 5 Drawing Arts and Craft updated worksheets, assignments, latest syllabus, NCERT CBSE books, easy to learn concepts and study notes and Sample Papers Question Papers. Also, Download NCERT Solutions for Class 5th EVS in PDF Form.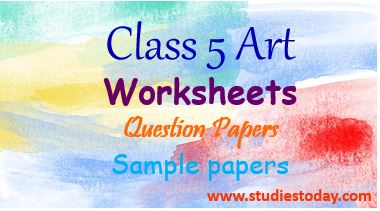 Latest CBSE News
CBSE has approved the introduction of Artificial Intelligence, early childhood care education, and yoga as new subjects in the upcoming session of April 2019. According to the new curriculum CBSE also introducing a few new subjects for the upcoming session starting from April 2019 like Artificial Intelligence, early childhood care education, and yoga. Out of those students have to choose optional...

How often have your parents lectured you on the importance of healthy eating habits? Quite a lot, we assume. Though it may sound like something a parent is bound to constantly lecture their children about, and though it may not seem important at all, it is super important and vital for you, especially as a student. Healthy eating habits don't just mean you need to eat green leafy vegetables and...

You never realise what you have until its gone. A chocolate pastry is a good example, but here we mean the joys of your schooling years. While 18,27,472 of you who are taking the Xth Board exams will continue on your journey of discovery and exploration in school, for 12,87,359 of you who are taking the XIIth Board exams, there are higher institutions of learning awaiting your knock on their...

The Central Board of Secondary Education (CBSE) has come up with certain rules regarding the dress code of candidates appearing for the board examinations. The candidates have been specified what they should wear while coming for their examination as follows: The regular school students are required to come for the exam in their regular school uniform only. The private students are allowed to...

Each one of you must have had this dilemma at least once in your lives. What time of the day is the best one to study? And if you have had this dilemma, then you most certainly would have had debates on it. Whether with your friends, your teachers or your parents. In this article, we try to clear up some ideas behind what studying time is the best for a student and what the benefits are. The time...

The Board examinations for Class 10th students studying the Central Board of Secondary Education (CBSE) will begin from the 7th of March 2019 for all core or main subjects. The exams for vocational subjects have already begun from the 21st February 2019. There are certain new mandatory rules that need to be kept in mind by the students before they appear for the examinations. These rules are...

Your concentration level is something that is not only important as you conduct your daily studies and learning, but is also something that is required in day to day activities. Whatever task may be at hand, you should be able to perform it with the utmost concentration and to the best of your abilities. It may often be that you are good at a certain task or you may have the ability to perform it...