Download CBSE class 4 Sanskrit Sample Papers, Question Papers, Worksheets, books and other useful study material prepared based on latest guidelines, term examination pattern and blueprint issued by CBSE and NCERT. Also have a look on Social Science Questions, available in PDF Form.
Click below for Class 4 Sanskrit worksheets, assignments, latest syllabus, CBSE books, easy to learn concepts and study notes of all class 4 Sanskrit chapters, sample papers and last year solved question papers with 4th class Syllabus.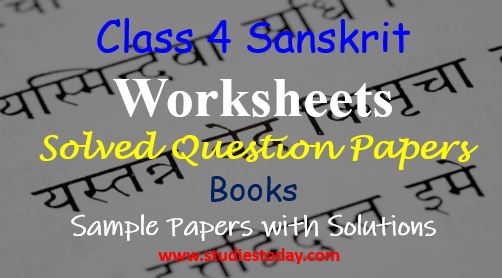 Latest CBSE News
Relying on the reference books will be completely pointless just before exams. The best medium of scoring good marks in the CBSE 10th boards exams is the NCERT books. This statement was given by a student Hrithika Meena, of St. Xavier's school of the Nevata area in Jaipur. Being a top scorer Hrithika advises all the students, instead of mugging up the students should understand the context and...

NCERT i.e. National Council of Education Research and Training syllabus would be brought in the fresh academic year of class X and class XII in the Urdu and Hindi medium schools of Gujarat. This is a big and very welcoming step by the Gujarat State Board of Education. Download Urdu notes for class 10 Revealing those, on Saturday the officials told that the board has declared the welcoming of...

In a highly patriotic and important move to highlight one of the greatest men of our nation, Atal Bihari Vajpayee, the National Council of Educational Research and Training has introduced one of the poems written by this great leader in the 8th standard textbook. Must download these NCERT solutions for class 8 Hindi for free. The NCERT has taken this move with an aim to instil respect for the...

The latest CBSE exam pattern 2019-2020 has been announced in the First week of March 2019. The new educational programme and pattern will be available in April 2019. As per the new exam pattern, CBSE has given more weight to school-based assessment and objective type questions. Internal Assessments in All Subjects: Unfortunately, the internal assessment wasn't available in all the subjects like...

The last date of online registration for admissions in Kendriya Vidyalayas was March 19, 2019. The official portal is launched by KV Sangathan functioning under the Union ministry for human resources development (MHRD) on 1st of March 2019. Interested candidates can also submit an online application form through our portal. The vacant seats will declared again on 26th March 2019 and students can...

How often have your parents lectured you on the importance of healthy eating habits? Quite a lot, we assume. Though it may sound like something a parent is bound to constantly lecture their children about, and though it may not seem important at all, it is super important and vital for you, especially as a student. Healthy eating habits don't just mean you need to eat green leafy vegetables and...

Your concentration level is something that is not only important as you conduct your daily studies and learning, but is also something that is required in day to day activities. Whatever task may be at hand, you should be able to perform it with the utmost concentration and to the best of your abilities. It may often be that you are good at a certain task or you may have the ability to perform it...