CBSE, Class IV Moral Science
Download Class 4 Moral Science Questions and Answers, Worksheets, Sample Papers and Question Papers with solutions and other useful resources covering topics life values, access study material for moral science life values, students can free download in pdf, All study material has been prepared based on latest guidelines, term examination pattern and blueprint issued by CBSE and NCERT. Moreover, you can also download kendriya vidyalaya model question papers class iv for more Practice.
click on tabs below for class 4 moral science life values worksheets, assignments, syllabus, ncert cbse books, ncert solutions, hots, multiple choice questions (mcqs), easy to learn concepts and study notes of all class 4 moral science life values chapters, online tests, value based questions (vbqs), sample papers and last year solved question papers.Also, get English Test Papers in PDF Form.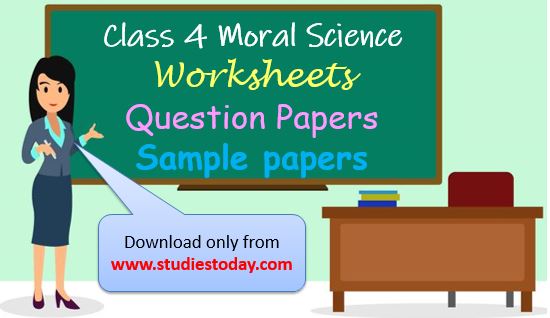 Latest CBSE News
Exam times are one of the most hectic and nerve-racking periods in the student's life ever. This pressure will more increase if the board exams are going on. During the exam times students don't eat, sleep properly in the burden to perform well in the board exams. But they always forget that the brain also requires a lot of energy as a portion of food, rest i.e. good nutrition to work well.  To...

When students prepare for the final board exams, most of the students often waste their time in choosing the right books to study for their final examination. They become confused in choosing the right study material for themselves and ends up taking the wrong books for their preparation which may even lead to failure in their board exams. National Council of Education, Research and training (...

Nowadays children are very busy with their day to day study. They are very much busy that they even don't have time for themselves. Burden and competition in education is growing day by day and due to this students are not able to enjoy their life. It is very important for every student to indulge in some other extracurricular or after school programs so that they can spend some time exploring...

CBSE Class 10, 12 Results 2019: After so many predictions, rumours about the CBSE class 10th and class 12th results, finally the date is out now and the dates are also confirmed by the CBSE officials. According to the CBSE officials, the result will be declared by after the May 1st week i.e. between May 8, 2019, and May 15, 2019. Download CBSE class 10 Physics electricity notes prepared by expert...

The Central Board of Secondary Education (CBSE) has been announced a list of all possible courses that students can continue after class 12. Also, CBSE has listed the names of the colleges, their eligibility criteria and other details related to that course. CBSE chairperson, Anita Karwal in an official statement said CBSE has made a concise list of elective courses that will help the students to...

The Central Board of Secondary Education (CBSE) is likely to declare the result by May third week for class 10th and 12th. CBSE is ready for further processes. The Central Board of Secondary Education (CBSE) has been announced the Re-verification and Re-evaluation schedule on April 11, 2019. All those students who have doubts or not happy with the correction of papers can fill the Re-verification...

So if you are one of the students who has just given their 10th class exam and confused about what to pursue next in your life then you have come to a right place. Today in this article we will be talking about some of the courses which students can pursue after their 10th class exam. Mostly students get confused after their 10th on what to choose and what to leave. Many students just take...