CBSE, Class IV Moral Science
Download Class 4 Moral Science Questions and Answers, Worksheets, Sample Papers and Question Papers with solutions and other useful resources covering topics life values, access study material for moral science life values, students can free download in pdf, All study material has been prepared based on latest guidelines, term examination pattern and blueprint issued by CBSE and NCERT. Moreover, you can also download kendriya vidyalaya model question papers class iv for more Practice.
click on tabs below for class 4 moral science life values worksheets, assignments, syllabus, ncert cbse books, ncert solutions, hots, multiple choice questions (mcqs), easy to learn concepts and study notes of all class 4 moral science life values chapters, online tests, value based questions (vbqs), sample papers and last year solved question papers.Also, get English Test Papers in PDF Form.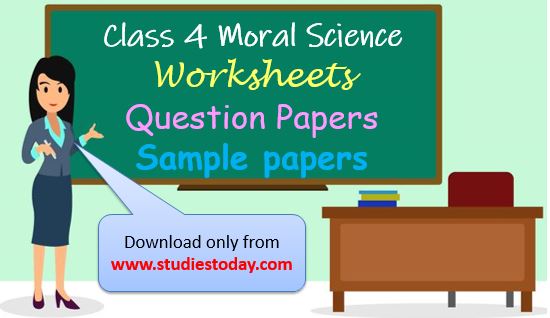 Latest CBSE News
In a highly patriotic and important move to highlight one of the greatest men of our nation, Atal Bihari Vajpayee, the National Council of Educational Research and Training has introduced one of the poems written by this great leader in the 8th standard textbook. Must download these NCERT solutions for class 8 Hindi for free. The NCERT has taken this move with an aim to instil respect for the...

The Central Board of Secondary Education (CBSE) has come up with certain rules regarding the dress code of candidates appearing for the board examinations. The candidates have been specified what they should wear while coming for their examination as follows: The regular school students are required to come for the exam in their regular school uniform only. The private students are allowed to...

Mobile phones, laptops, iPods, tablets, you name a gadget and it is available for use in today's technologically advanced era. Technology and these gadgets have become quite an integral part of our lives so to say. Every day a new gadget is being introduced and humans are getting more and more dependent on technology for their day to day needs. There is probably not a single activity left in the...

Exam times are one of the most hectic and nerve-racking periods in the student's life ever. This pressure will more increase if the board exams are going on. During the exam times students don't eat, sleep properly in the burden to perform well in the board exams. But they always forget that the brain also requires a lot of energy as a portion of food, rest i.e. good nutrition to work well.  To...

Since the board exams for both class 10 and class 12 has started, the CBSE board has instructed the parents and the students to follow some guidelines to sensify against the forged news spread through the social media platforms. The parents and the students are directed to stick on their principles stated by the CBSE Board on their official website i.e. "www.cbse.nic.in.com". All the devices such...

As you know that the latest CBSE pattern 2019-2020 already has been updated and announced in the 1st week of March 2019. As per the new curriculum, CBSE proposed the internal assessment and examination practices for upcoming academic session 2019-2020. This will help in upgrading the quality of the assessment process, said by city school principals and authorities. According to the new curriculum...

Mathematics is the subject which is feared by most of the students. The problem becomes more critical now since the board exam is knocking the door. Usually students develop anxiety during mathematics exam. Usually mathematics is well thought-out as a subject of calculation actually involves logic, reasoning and imagination, moreover it also involves loads of stuffs related to calculations. This...