A strange question appeared in the mathematics paper for Primary school students of grade 5 at a school in the Chinese district of Shunqing
The question was: "If a ship had 26 sheep and 10 goats on board, how old is the ship's captain?"
This question has gone viral on the internet with parents trying to guess the correct answer.
Most think that this question was a mistake but the education department has made a statement that the question is not a mistake but will help students to think. And as per the education system of China they promote out of the box thinking in students as compared to old style teaching methods.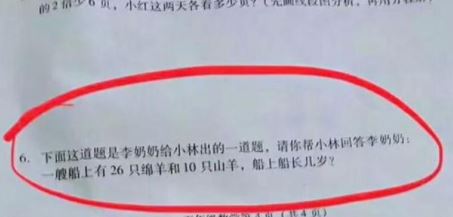 Some of the answers guessed for this question are:
a) The captain is at least 18 because he has to be an adult to drive the ship
b) The captain is 36, because 26+10 is 36 and the captain wanted them to add up to his age
c) The total weight of 26 sheep and 10 goat is 7,700kg, based on the average weight of each animal," and "In China, if you're driving a ship that has more than 5,000kg of cargo you need to have possessed a boat license for five years. The minimum age for getting a boat's license is 23, so he's at least 28."
Whats your guess ?? Share this article with your friends by clicking the whatsapp link below and ask them to guess the answer...